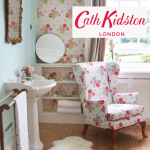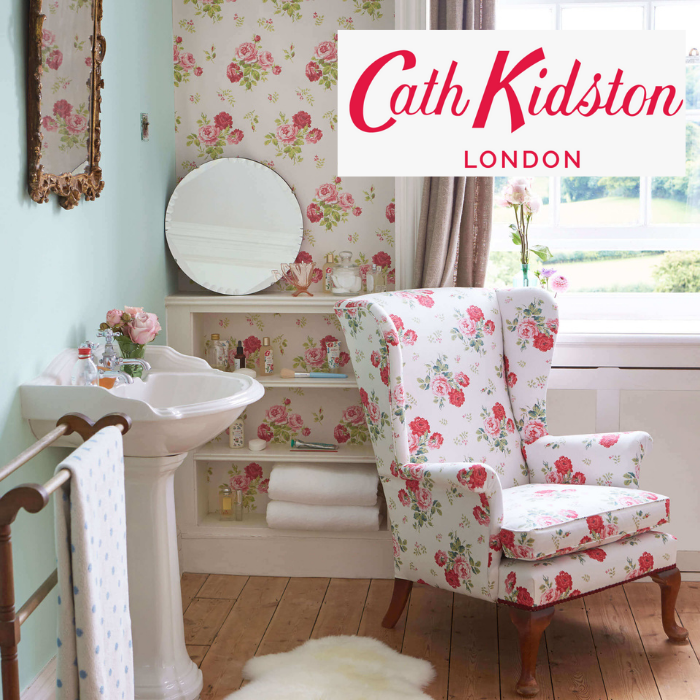 Cath Kidston Wallpaper
/
July 27th, 2021
/
There are currently 0 comments
Imagine our joy when we became a UK stockist for Cath Kidston wallpaper. Not only have we been big fans of Cath Kidston and her shabby chic floral wallpapers for many a years now. But we have adored this vintage style brand for such a long time. So in our blog today we will discuss the history of this pretty brand. We will cover the simple styles that customers love. And the Cath Kidston wallpaper that we stock here at Wallpapershop.co.uk. Oh and lets not forget that all our Cath Kidston wallpaper is on SALE.
History Of Cath Kidston
So when and where did this creative lady become a household name here is England? Lets go back to 1993 in London's Holland Park. Here Cath Kidston opened her first shop. Cath sold hand-embroidered tea-towels and brightly renovated furniture that was hand painted. Vibrant chintzy colours and florals were her trademark. Catherine Isabel Audrey Kidston was born in 1958 I suppose this era sums up perfectly the style seen in her shops and designs, because I would personally say her style definitely evokes the 1950's period.
By the end of 2013, she had 136 outlets, including a flagship store in Piccadilly right near Fortnum and Mason. And she had even branched globally to China as she had four stores there. I have relatives who worked in China and they said the Chinese could not get enough of this cute brand. All ages would wear or own a Cath Kidston product.
A fun fact but did you know Cath Kidston created the exclusive Rosali print for the big brand Ikea? This was news to me, and the money she made from the Rosali printing rights of £80,000 she invested back into her business. Around this time she was also asked to be part of the design consulting board for Laura Ashley.
Cath Kidston brought to our homes designs and style that instantly made a home feel relaxed and lived in. Some of her patterns would feature her Lakeland Terrier named Stanley, who feature in her designs.
Cath Kids Cath Kidston Wallpaper
I did a little research online and did you know that the name Cath Kidston per month is googled a quarter of a million times per month in the UK? Secondly the most sought after phrase on Google is Cath Kidston Sale but who doesn't like a bargain. I think I can be counted in these figures too. The main item people are looking for when it comes to this fun brand is Cath Kidston pyjamas. Its hard not to see why these outfits are filled with vintage charm. And I am yet to walk down a high street seeing parents with kids in tow and them having at least one Cath Kidston item on them.
I am guilty of this with my toddler, I have a back pack with adorable traditional Buckingham Palace guards on. And it never ceases to bring a smile to my face. I also have matching travel accessories for when we are doing a day trip to the beach or zoo.
We also stock a similar wallpaper to Cath Kidston designs which is our best seller. Our vintage boys dino wallpaper which is mentioned in our boys wallpaper blog post.
So when our Cath Kidston Kids wallpaper collection arrived I was super excited. We stock the Cath Kidston boys bedroom rocket wallpaper and for little girls we have the Unicorn kingdom wallpaper. But I will delve deeper into these Cath Kids wallpapers further on.
Cath Kidston Greenwich Flowers Wallpaper
If your looking for a cottagecore aesthetic wallpaper then I strongly feel that the Cath Kidston Greenwich Flowers Wallpaper may be the one for you. Yes it has a touch of idyllic vintage charm but its also quite modern so it doesn't feel dated. In fact it feels the opposite which is fresh and full of life.
The Cath Kidston Greenwich Flowers Wallpaper features a delicate pretty flower in pink. The flowery pattern also have a cute ladybird and a busy bee buzzing through out. Your walls will feel like an extended version of a cottage garden in the Summer months.
Antique Rose Wallpaper
Step aside for the dreamiest vintage love shack fancy style wallpaper. Our Cath Kidston Antique Rose Wallpaper is just perfection. Not only are the large rose florals blooming with life but it comes in three stunning shades of Cream (in my opinion it is White), Blue or Duck Egg. The pattern is that of a modern chintz red and pink rose. The delicate floral will add that pop of colour to your walls without it looking too overwhelming.
This stunning wallpaper can be seen in many old country cottage style houses. And it looks like, but do I dare I say the word Granny wallpaper. It is something like what your grandma would have but it works. More is more when it comes to adding florals to your interiors. In fact I watched a Youtube video of Aerin Lauder who is the grand daughter of the talented Estee Lauder. She did a tour of her Hampton home which Estee had built decades ago. I remember her saying that her Grandmother Estee would use the same exact pattern in the same room. She would use the same pattern on the walls, curtains and tablecloths. And you know what it still works. So do not be afraid of over dramatising the same bold print.
Millfield Blossom Wallpaper
Fall in love with the Cath Kidston Millfield Blossom Wallpaper. Think of Spring like blossom coming to life after a cold harsh Winter. This Cath Kidston wallpaper comes in three colours of Grey and Ochre (Yellow), Cream and Blush Pink, and Navy Blue. The small delicate blossom cascades and weaves through out this gorgeous wallpaper. If your looking for a wallpaper to bring your interiors to life then this is the perfect pattern. Laura Ashley wallpapers did a similar pattern in the 1980's that resembled this Cath Kidston wallpaper. And I remember going to visit an aunt in the Cotswolds each year and this wallpaper reminds me of fond times.
This Cath Kidston wallpaper is also perfect for lining your upcycled furniture. I have see lots of Cath Kidston furniture have a new lease of life while keeping its old charm. Or be bold and add to the front of drawers or wardrobe doors. I wish I was that daring but if I like a wallpaper I always line the inside of my furniture. There is nothing more that will bring a smile to my face by seeing my favorite wallpaper as I open a cupboard or drawer. Be adventurous and push boundaries when using Cath Kidston wallpaper.
Cath Kids Wallpaper
As I wrote at the beginning of this Cath Kidston wallpaper blog post I have a toddler. I also have a niece and they are both 2.5 and 4 years old. And I know if I was to decorate their rooms using the Cath Kids wallpaper they would be super excited. The boys bedroom wallpaper is called Cath Kids Rockets. And this wallpaper is fun and cool as bright vibrant coloured rockets are blasting in space. The perfect Oxford blue backdrop is the perfect blue hue and can easily be co ordinated with a mixture of dark and soft blues. You could pick out the plain colours in the rockets and add them as cushions, or curtains etc.
Our Cath Kidston Kids Unicorn Kingdom is an Aladdin's cave of magical and cute characters. There is a princess castle, hedgehogs, butterflies, rainbows and not forgetting the mythical Unicorn who gallops amongst florals. There is a toadstool or mushroom that features through out this kids wallpaper. I have noticed a lot of interiors for children are embracing the toadstool wallpaper and it is fast becoming a top trend. So our Cath Kidston Unicorn Kingdom wallpaper will certainly look perfection in a little girls bedroom.
Cath Kidston Sale
So as they say "always leave the best till last" and here it is. Not only do we stock Cath Kidston wallpaper. But ( I hold my breath) it is also on SALE. Yes that is correct you heard it right. Cath Kidston SALE wallpaper here at Wallpapershop.co.uk. Which is your favorite? So normally these vintage floral print wallpapers retail at £18.00 a roll on the Cath Kidston website. We are selling them at a discount price of only £14.95 a roll. Up to now I researched and we are one of the cheapest Cath Kidston outlets for wallpapers. Be sure to tag us in your transformed room using our Cath Kidston wallpaper. We cannot wait to see the results.
Summary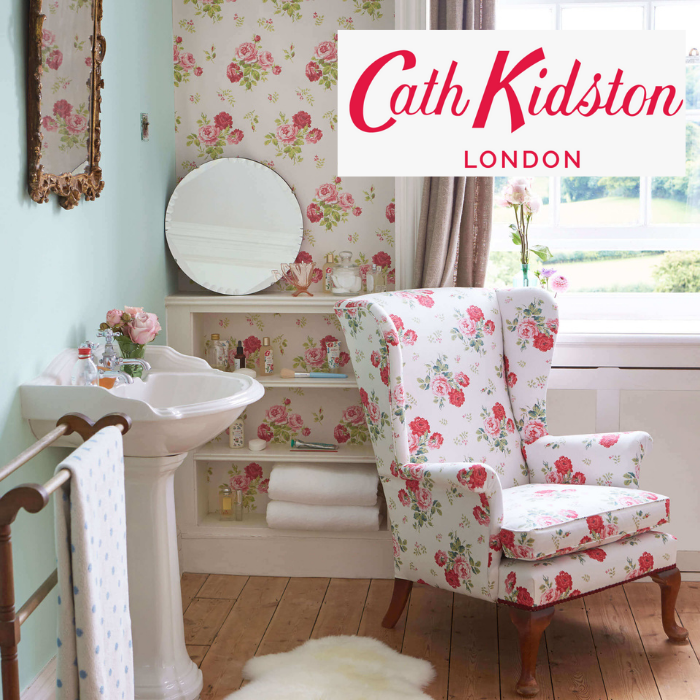 Author Rating
Brand Name
Product Name
Antique Rose Wallpaper Cream Pink SALE
Price
Product Availability