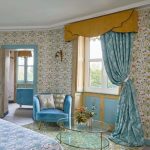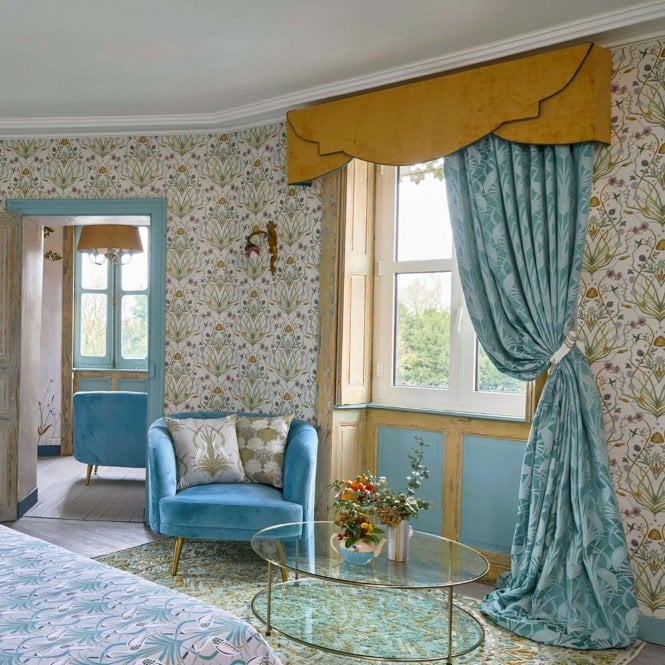 Cottagecore Aesthetic
Looking for a source of Cottagecore aesthetic in creating a home that compliments your surroundings and way of life. Whether you live in a rambling country house or cottage, a city terrace or flat. Your home creates a first impression of your character and lifestyle. It reflects an atmosphere that can be traditional, grand, and formal or cosy and casual.
The Cottagcore room that you establish. Should be compatible with the intended use of everyday living. Should it be become an elegant drawing room to suit the need for formal entertaining. Or a more cosy room to use for informal occasions and every day family relaxation? Sit back and enjoy this calming style. With soft and contemporary of intense pastel colours you will instantly feel soothed. I find when using a mixture of pretty pastels it creates an ambience of tranquility. Play with colours and don't be afraid of mixing them.
Cottagecore Aesthetic House
A cottagecore interior is about looking into the past for inspiration. Whether re created in authentic Cottagecore aesthetic detail. Down to the last tiny specifics such as trimmings, used as a catalyst to stimulate the imagination. Classic floral wallpapers, striped wallpaper, sprig wallpaper and geometric wallpapers, all deprived from period wallpapers from the past. I find we can learn so much from vintage styles that are still in vogue today.
However imaginative or subtle the decoration, a Cottagecore aesthetic wallpaper needs time to evolve. Like painting a picture the finishing touches cannot all be decided in advance. In fact a room that has established itself by degrees feels well-loved and lived in which is the whole point of Cottagecore aesthetics. It should never feel contrived and perfect, Cottagecore trend is much worn and lived in. I feel that the more imperfect the easier it is not to worry about everything looking too perfect. I much prefer walking in a room and seeing a sofa billowing with shabby chic linen cushions. If I walk into a room with rigid uniformed cushions I cannot sit relaxed.
Cottagecore Aesthetic Wallpaper
The walls in an Cottagecore livingroom should have a strong rapport with the windows especially with the natural light flowing through. Where chintz curtains are more flamboyant, the Cottagecore aesthetic wallpaper can continue the the pattern and colour, or be daring and introduce a secondary colour or print. If scared to use too much print and pattern, you can still have an cottagecore aesthetic room by using a fine stipple, scumble or trellis wallpaper behind bold patterned curtains. By using a corresponding cottagecore wallpaper to match the effect.
With any room it helps to have a starting point to guide ideas of colour and pattern. If the walls are covered in book shelves it is more effective to treat the wall space as a plain background. Choose a cottagecore aesthetic wallpaper as a simple backdrop. The wallpapers we have are a linen effect and give a soft but textured feel.
The Cottagecore Home
Windows play a major part in achieving a cottagecore aesthetic and the walls also need to convey a feeling of light. Where pure white appears too stark. A tinge of sand, coral or pale sage can diffuse the glare, and give a subtle glow to your walls. In a modern or urban setting a rustic wallpaper can infuse the room with a more rural atmosphere. Especially if it extends over the ceiling or behind shelves and alcoves. Traditional cottage prints are stippled and sprigged on a cream background.
The idiosyncratic furnishings of a rustic sitting room emphasizes its air of homely comfort. A wicker sofa, plump with cotton cushions. A draped fading patchwork blanket. Rush seated Windsor chairs. A rocker and upright wooden settle are softened with cottagecore livingroom cushions. An old pine dresser can be arrayed with decorative china, teapots, jugs, cups, photographs. To give it a more cottagecore aesthetic look always add plants and bunches of real cottage garden flowers. New wood can be given a time worn patina of greyish blue or sage green with a milky paint finish rubbed into the grain.
Aesthetic Cottagecore Wallpaper
While the furnishings and fabrics seldom match. I find mellow pastel cottagecore home shades, the sprigged and stippled prints all have a natural affinity that infuses the room with a pastoral tranquility. This style of room is defined by the romantic feel of cottage life. Irregularity I feel is achieved by uneven proportion rooms. Think low ceiling beams, bay windows. And inglenook fireplaces. When I read interiors blogs and books I can see that Laura Ashley revamped this cottagecore appeal in the 1970's and 1980's. If you take a look at this vintage cottagecore style the decoration has a simple and settled look. And you can see nothing looks new or contrived.
Cottagecore Wallpapers.
So what wallpapers to use to embodiment this simple style. We have the Escape To The Chateau By Angel Strawbridge Collection. With delicate prints that bring a more modern edge this patterns fit seemingly into cottagecore decor. Choose from the rustic gardenalia pattern the Potagerie wallpaper introduces splashes of warm colours.
Our Escapade Arcadia Saffron Floral Wallpaper Cream Green just oozes cottagecore aesthetics. This stunning flowery chintz Escapade Arcadia wallpaper from Muriva is an easy way to add a touch of elegance to your home. With a blended mixtures of blues, greens or pinks this country cottage style wallpaper creates a warm, and subtle canvas on which to build a soft cottagecore room. This vintage chintz wallpaper is one of my personal favorites.
Summary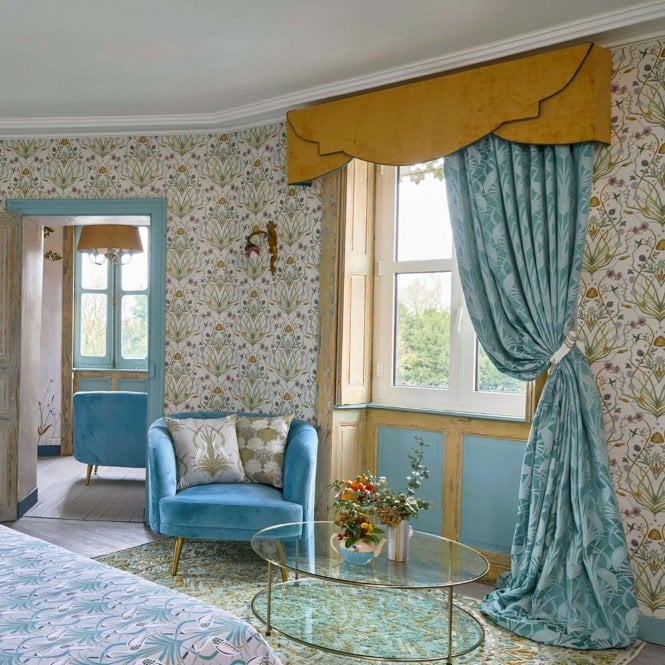 Author Rating
Brand Name
THE CHATEAU BY ANGEL STRAWBRIDGE POTAGERIE CREAM WALLPAPER
Product Name
THE CHATEAU BY ANGEL STRAWBRIDGE POTAGERIE CREAM WALLPAPER
Price
Product Availability