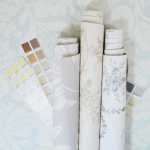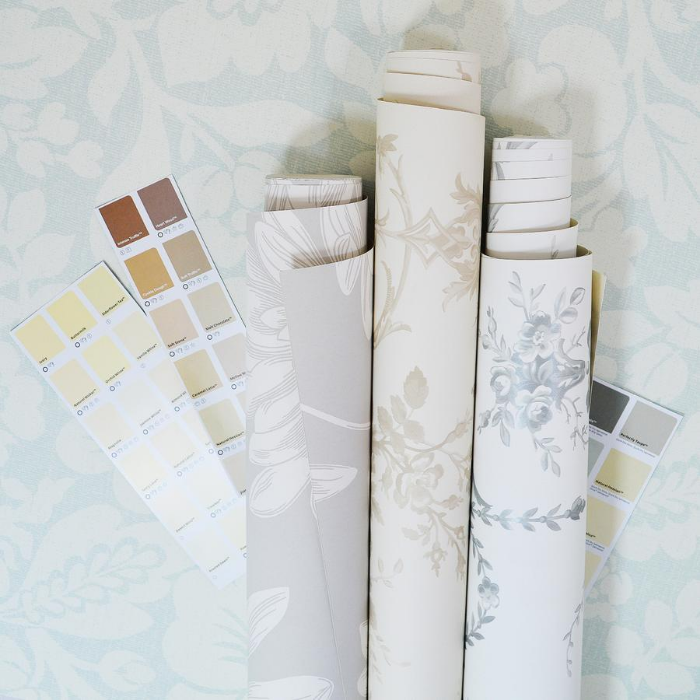 Where Can I Buy Laura Ashley Wallpaper?
/
August 17th, 2020
/
There are currently 0 comments
Where can I buy Laura Ashley Wallpaper? The closure of Laura Ashley here in the UK sent shock waves and created a mass panic as to where to buy discontinued Laura Ashley Wallpaper. The scary moment was when I went on the Laura Ashley website and there was no wallpaper in stock. I think it was then that I realised the end of an era had happened.
I have always been a fan of Laura Ashley. In fact I worked for a couple of years as an Interior Stylist for Laura Ashley on King Street in Manchester. I knew every collection by heart.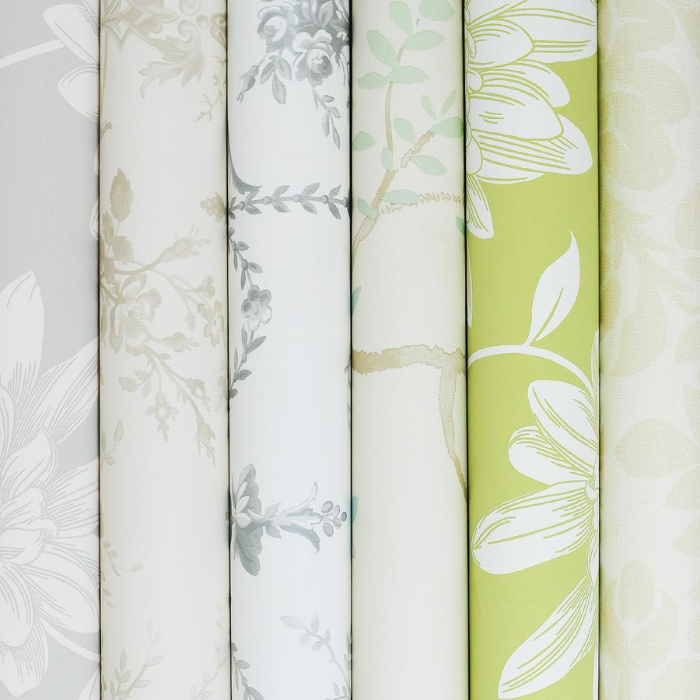 Buy Laura Ashley Wallpaper – SALE
Not only do we stock discontinued Laura Ashley wallpaper but we have it on sale at 50% off. How amazing is that? So what patterns, designs and colours do we have in stock? I will list them here but if you do not want to read on just CLICK HERE which will redirect you straight to the Laura Ashley wallpaper sale.
So what do we have in stock with 50% off then? We have the popular Tulleries wallpaper in Silver or Cream. Grace wallpaper which has divine damask patterns of florals and leaves through out and we have this in Cream or Teal.We have the Hampstead wallpaper in luxurious white. The Fenton wallpaper comes in two colours of Flannel or Duck Egg. Then we have the Elwood Branch wallpaper in Dove Grey or Eau De Nil. The wisteria wallpaper named Avebury in Purple. The Munro which depicts a floral flower pattern comes in two colours one being Grape Purple and a stunning Teal. We have an Allium flower wallpaper in Amethyst Purple. And last but not least we have the Jospehine Wallpaper which is large flowers in Moss Green or Dove Grey.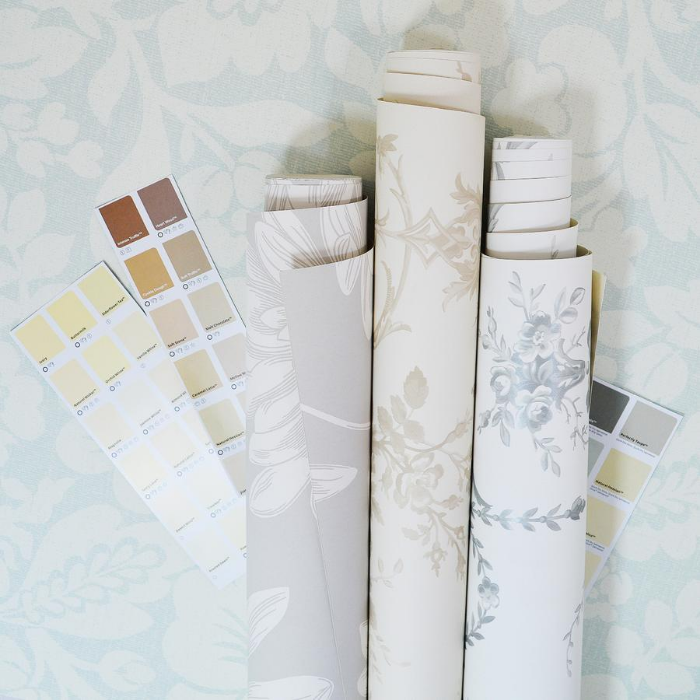 History Of Laura Ashley
Laura Ashley has a steeped history of rich English heritage. The company began in September 1925 September 1985 until it was bought out. Laura Ashley was a Welsh fashion designer and businesswoman. She originally made furnishing materials in the 1950s, expanding the business into clothing design and manufacture in the 1960s. The Laura Ashley style is characterised by Romantic English designs — often with a 19th-century rural feel — and the use of natural fabrics.
I remember the Laura Ashley brand as a young girl so when I applied for a job – My very first job and was delighted when I got the role. I then ran the home ware department within the first year of joining. Something that I was over joyed with. But I did have a passion for interiors. I knew all the Laura Ashley collections by heart and still do nearly 20 years later.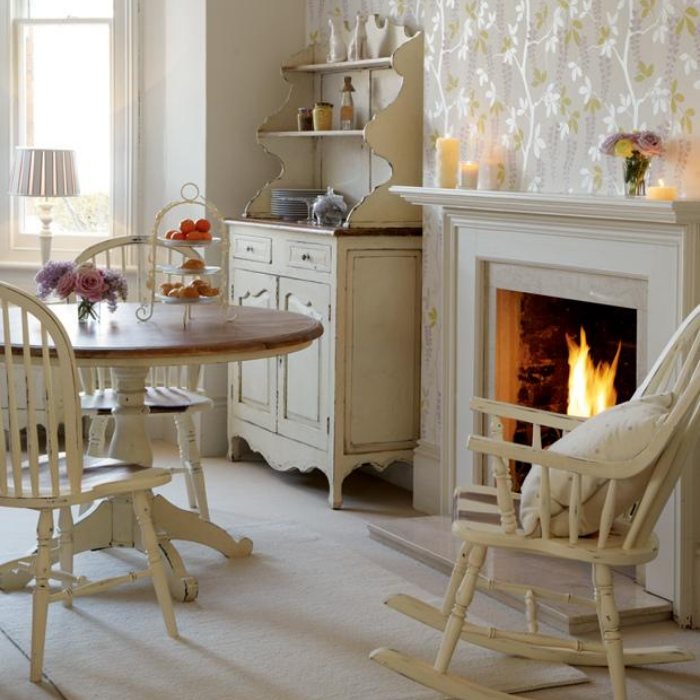 Discontinued Laura Ashley Wallpaper
Where can you buy this discontinued Laura Ashley wallpaper now it not on line? Look no further than Wallpapershop.co.uk. We do advise to grab the stock while you can as it is flying off the shelves as everyone is panicking as the announcement that the UK was to close its stores. We do silently grieve as Laura Ashley was the pinnacle of a true British brand.
I personally will be sad to see the shops close as I feel everyone has a little Laura Ashley either in there homes or clothes in the wardrobes. I feel this brand is going to be sadly missed. And personally I am going to miss visiting stores when I am on holiday here in the UK. Now with Laura Ashley closing and now hearing the news that Cath Kidston may be doing the same it such a shame as these are strong UK business women who started a worldwide brand from the kitchen table.
We Have Laura Ashley Wallpaper In Stock
So do not panic you can still get your hands on some Laura Ashley Wallpaper from us here at Wallpapershop. Go to our store and shop till you drop. Please do not forget to tag us in on Instagram our Instagram handle is @wallpapershop.co.uk. We will be delighted to see any of your before & after shots.
Summary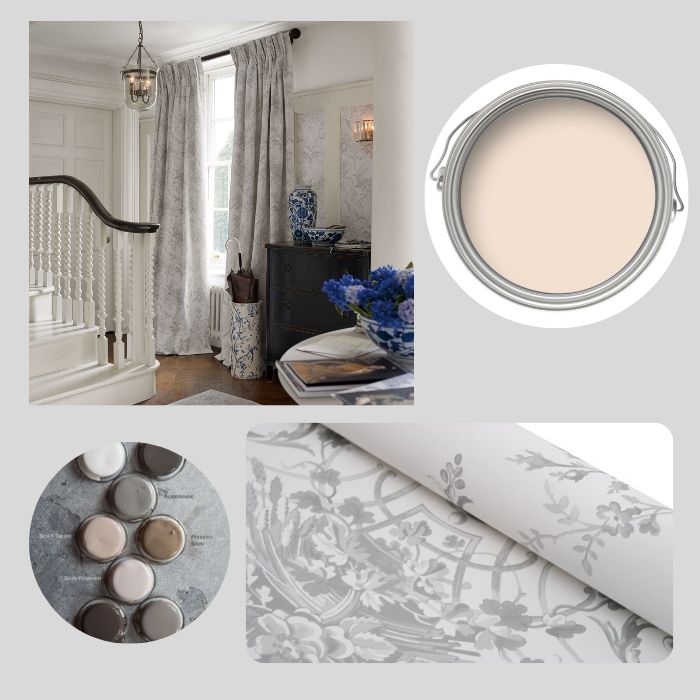 Author Rating
Brand Name
Product Name
;Laura Ashley TUILERIES WALLPAPER
Price
Product Availability