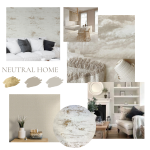 Autumn Wallpaper Trends 2023
/
August 2nd, 2023
/
There are currently 0 comments
Autumn Wallpaper Trends 2023: Embracing Cosy and Natural Interiors
As the air turns crisper and the leaves begin to change, it's time to welcome the beauty of autumn into our homes. And what better way to do that than by updating your interiors with the latest autumn wallpaper trends for 2023? Whether you prefer high-end luxury or budget-friendly options. There's a style that will perfectly complement your home during the cooler months.
Autumn Wallpaper Trends 2023 – Monochrome
1. Monochrome with Abstract Detailing
The monochrome trend has been a timeless classic, and this autumn, it's making a bold comeback with a twist of abstract detailing. Think about adding wallpaper with eye-catching patterns and designs like vases from Zara Home, B M Home, and The Range. These abstract elements bring an artistic touch to your walls, making them the focal point of any room. Black and white wallpaper shades dominate this style, creating a high-contrast, sophisticated look that suits modern and minimalist interiors. Think Abstract Monochrome Luxury Wallpaper. Be sure to gander though all our Abstract Black and White Wallpaper.
Budget Friendly Sage Green Wallpaper
2. Calming Sage Green
Incorporating sage green into your home's décor will not only keep your interiors on-trend for autumn 2023 but also create a soothing and organic ambiance. This nature-inspired colour complements various design styles and pairs beautifully with earthy tones. Consider sage green wallpaper for your living room, bedroom, or even bathroom to bring a sense of tranquillity and harmony to your spaces. We adore wallpaper style that evoke a organic sage green as you would find painted all over the Cotswolds. For some reason, maybe its the light but in the Cotswolds every shade of green is used and it just blends into the countryside that surrounds it. Be sure to shop our budget-friendly Sage Green Wallpaper
Affordable Textured Neutral Wallpapers For Autumn 2023
3. Neutral with Textured Touches
Neutral colours never go out of style, and for autumn 2023, it's all about giving your walls a touch of texture. Opt for Cloud Weave Wallpaper. A design that emulates the popular Cole And Son Nuvolette Cloud, making it a great and affordable alternative. You will find more on this Cole And Son wallpaper dupe in another blog post HERE. This textured wallpaper adds depth and interest to your walls, creating a cosy and inviting atmosphere, perfect for a tranquil and natural home setting. Log on to Wallpaper Shop and browse all our textured neutral luxury wall coverings. Shop here for all our neutral style wallpapers.
Nature-Inspired Luxury Wallpaper
4. Natural Home: Bringing the Outdoors Indoors
The natural home trend is all about embracing the beauty of the outdoors and incorporating it into your interiors. Choose our wood slat wallpaper, slate patterns, or brick effects to mimic natural elements on your walls. This style creates a warm and rustic ambiance, providing a sense of grounding and connection to nature, especially during the autumn months.
Embrace the essence of autumn with these four trending wallpaper styles for 2023. Whether you prefer the elegance of monochrome with abstract detailing or the calming vibe of sage green, there's a design that will resonate with your personal taste and elevate your home's interiors. If you're a fan of neutral colours, don't forget to add that touch of texture with Cloud Weave Wallpaper. And for those who love the idea of bringing the outdoors indoors, explore various natural-looking textures like wood slat wallpaper, slate, or brick effects.
Make this autumn a season of transformation for your home by incorporating these trendy wallpapers, turning your space into a cosy, stylish, and welcoming sanctuary for the cooler months ahead. Embrace the beauty of the season and let it inspire your interior design choices. Happy decorating!
Follow us on Instagram for more inspiration.