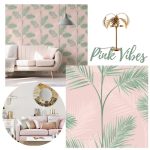 Pink Wallpaper Trends
/
March 3rd, 2021
/
There are currently 0 comments
The pink wallpaper trends this season instantly creates a calming and relaxing ambience to a room. This feminine palette colour give a soft feel. We are seeing this hue everywhere on the internet at the moment. And other colours such as green or navy blue are added to add a pop of colour.
So what makes pink wallpaper the colour for this season? This on trend stylish colour is versatile and can look sleek, modern and classical. I have seen pink wallpaper trends develop into some swish trendy designs. I love the pink and green palm leaves wallpaper that seems to be all over Instagram at the moment. This oozes Palm Beach vibes, and just feels like you have escaped to the sandy beaches of Florida. I have even notice that the pink wallpaper trends are now being replicated. We have bedding, cushions and lets not forget the pink velvet headboards that are so in Vogue.
Pink Wallpaper – Marble
Lets just take a quick peek at this pink wallpaper trend which happens to be our pink liquid marble wallpaper. Lets all hail this most sought after design. This pink liquid marble wallpaper screams luxury and designer style. I have seen this pink wallpaper trend used as just one feature wall, in a bedroom or livingroom and it looks really chic.
So if your looking for a pink wallpaper that is currently on trend with a modern edge to it. Then the pink liquid marble wallpaper or our elixir marble wallpaper collections may be just what you are looking for.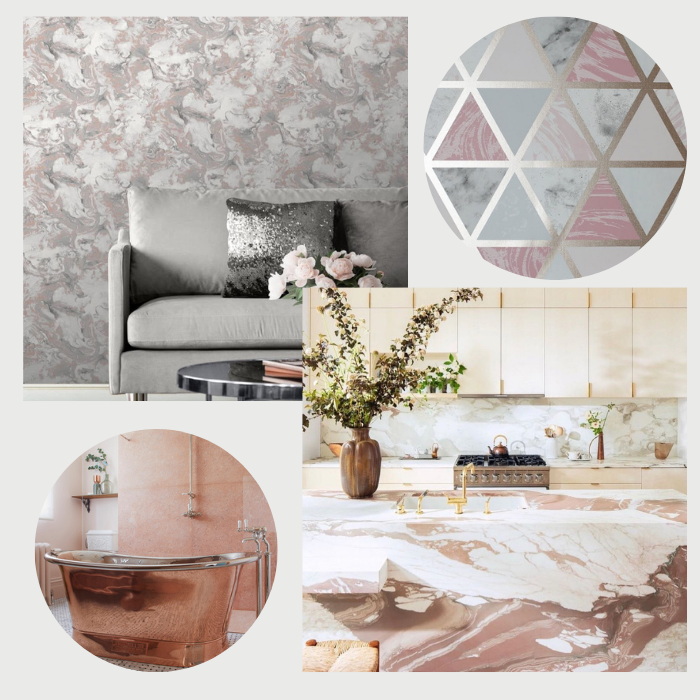 Girls Dalmatian Bedroom Pink Wallpaper
Another pink wallpaper trend happens to be the pink Dalmatian wallpaper. This stylish wallpaper I personally think looks fabulous as a girls pink bedroom wallpaper. I am seeing mums steering away from cute girls bedroom wallpaper patterns of hearts and unicorns. They are adding a more grown up touch to their littles girls bedroom. The Dalmatian Spot wallpaper in pink is the perfect way to add some distinct style.
This pink trend wallpaper is distinct and the has definite muted aesthetics. If you add more layers of fun with kids styled cushions and accessories. This will make it more in keeping with a Childs bedroom.
Small geometrics patterns and prints, such as polka dots, can also work well in girls bedroom or other feminine spaces around the home. The prints and patterns, no matter what you choose, should be cheerful and bring a smile to your face.
Pink Wood Panel Wallpaper
And we cannot forget the one pink wallpaper trend that everyone is so in love with. I can speak for myself as I am obsessed and I mean obsessed with watching before and after reels from interiors influencers doing this faux wood paneling walls. There is not a day that goes by where I have not watched a few Instagram videos. So imagine my ecstatic glee when we received the Heritage Wood Panel Wallpaper in Pink. This pink panel wallpaper saves all the mess and hard work of the real thing.
We discussed more of this wood panel wallpaper in another blog which went into more detail. However we will just concentrate on pink panel wallpaper in this section. This pink wallpaper trend is perfect as the panel wallpaper does look like the real thing. And if you change your mind once this latest fad is over it is not going to ruin your walls if you do change your mind. And if you choose in time to then tear down the faux wall panels everyone is creating all over social media.
Pick Softer Colours and Shades
When choosing the latest pink wallpaper trends what will you opt for? Will you pick softer colours and shades. Of course, this doesn't mean there isn't a place for bright colours. In fact, bright colours, such as hot bright pink for a vibrant girly colour or theme which work well in feminine spaces. But to be honest to create a real girly vibe, I feel soft pink is usually best. I much prefer a soft sublime chic blush pink with accent colours. Add metallic gold or rose golds in the pattern. The blush pink apex geometric looks really decorative and gives an edge to your styled room.
Additionally, textures and added accessories and the way you use them can determine the overall feel of a room. Like with any room in your home, it's really important to use a mix. Combine a mixture of opposites like hard with soft, metallic shine with matte, and smooth with coarse and textured for impeccable style. The combination of textures will add depth and layers to any room. More specifically, when it comes to feminine bedrooms. Feel free to use a variety of different materials and linens, including cotton, silk, plush velvet, linen, chenille, and cashmere. Plus, don't forget about ruffles—it's the ultimate feminine texture. I always feel the more ruffles the more shabby chic a room will look.
Pink Dining Area
When it comes to creating a feminine aesthetic touches in a dining room, a lot can be done through the use of certain materials. So when you use our trendy pink wallpaper as a backdrop then start to layer the room. Use accessories that feature glass, crystal, gilt, mirror, and marble are just a few of the traditional materials associated with feminine rooms. If you are looking for a more relaxed and natural then look use rattan mats and rustic stone vases to compliment your chosen pink wallpaper. We have seen lots of metallic co ordinating accessories that that compliment our pink wallpapers and turn a old tired dining room into something that has the wow factor. Think about over decorative jeweled lighting and diamante napkin rings to add even more bling.
Furniture should include decorative feminine flourishes, such as luscious deep velvet chairs that are deep buttoned —Don't over face all your co ordinated furnishings as it will start to look over the top, or it will be too overwhelming for your guests. While no room should ever be overcrowded with furniture, a soft feminine rooms really needs to include more decorative pieces simply because they look great, not just for practical purposes like trays, or a small sideboard with a stylish lamp to create a low light while entertaining. Which then brings me on to candles, which a must for a feminine feel to your pink dining room. Additionally, lets not forget accessories play a huge role in feminine interiors. Be sure to always have a vase of fresh flowers, throw pillows, and lets not forget the pastel blush pink table linen.
Pink Wallpaper Styles
So we have covered in great detail our soft pink wallpaper trends and how to use them. We hope we have inspired you to create a room that provides a sanctuary for you to relax in after a long hard day. Choose from a wide range of pink wallpaper. Designs that feature pink flamingo wallpaper, pink liquid marble, pink wood panel wallpaper and pink girls bedroom wallpaper.
Summary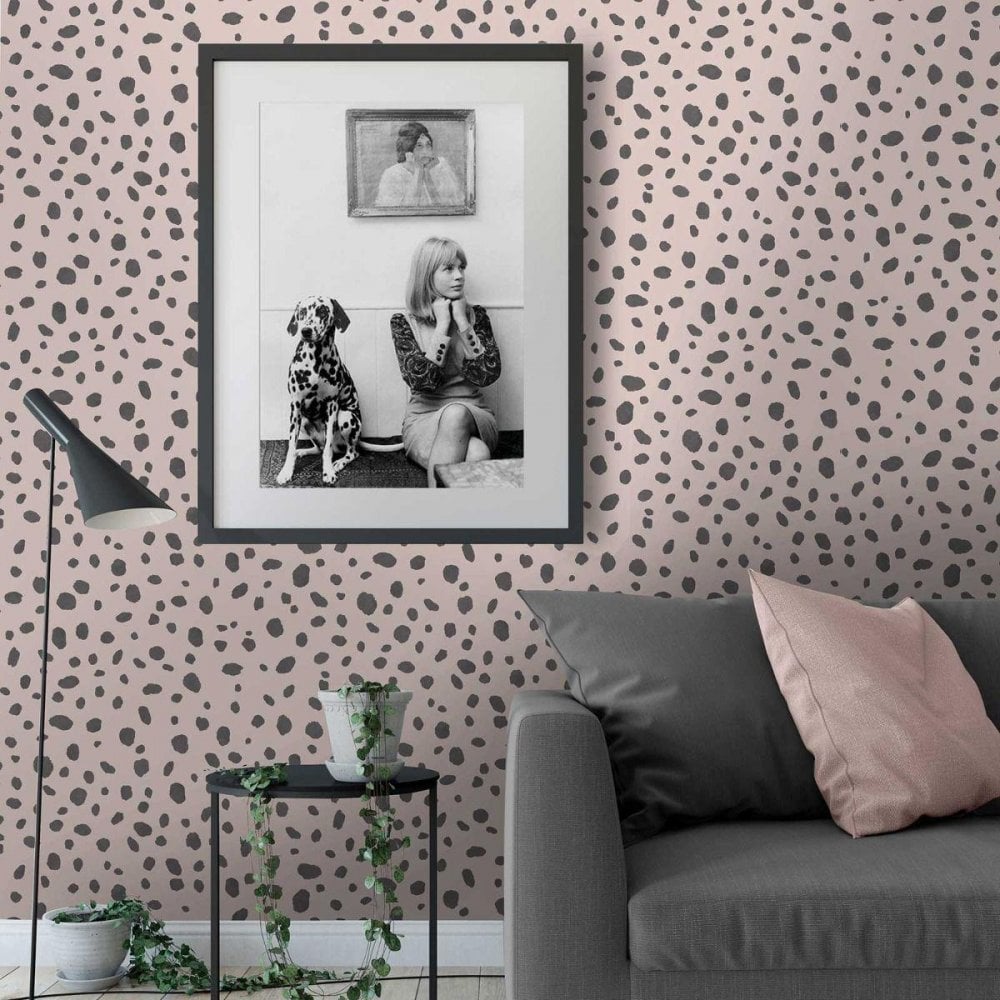 Author Rating
Brand Name
Product Name
Price
Product Availability