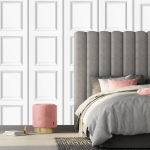 Wood Panel Wallpaper
/
October 5th, 2020
/
There are currently 0 comments
Wall panelling wallpaper especially wood panel wallpaper is on trend for this years interiors. You see this panel effect wallpaper just about everywhere. Everyone everywhere is after wallpaper that looks like wood panelling. Our White wood panel wallpaper looks like the real thing and we cannot get enough of how elegant and sleek this 3D wood panel wallpaper is.
Wood panel effect wallpaper is perfect for any wall that you do not wants to spend an exuberant amount on real wood panelling. Its easy to hang and the job of using it can be done in a day. And I can defiantly say half the mess. So using wood panel effect wallpaper is a winner.
Wood Panel Wallpaper – That Looks Like Panelling
The white and grey panel wallpaper looks stunning as a feature wall or on all walls. So why is this such a big trend? Over the past 18 months I have personally seen the trend grow and grow. And the more real looking wood panel wallpaper is hard to come by. This style has always been a classic as seen in 1920's style homes. Where hand painted murals were displayed above real oak wood panels. If you go round stately homes here in England such as Lyme Park. You will find plenty of wood panelled walls as an example of how classic this design is.
This new 3D wood panel effect wallpaper will tick all the boxes if you are looking for an easier DIY option. I love the fact that you can just buy the wallpaper. And hang it all in the space of a day and still an instant transformation.
Wood Panel Look Wallpaper
This wood panel effect wallpaper has been brought up to date. We now have streamlined wood panelling effect in an array of stunning colours. The one which we sell the most of comes in a white and grey colour palette. The colour is very neutral so it will blend in with all styles of decor and interiors. If you want some modern and trendy as seen in the home magazines then this ticks the box. However if you are looking for a shabby chic looking French style. This again will blend in with it.
The fact that this wallpaper is so versatile that you can dress it up or down. And you can change your interiors as the seasons change because it is plain white and grey. I know customers who have a set of curtains, cushions and duvets that they change and keep the same wallpaper. I would defiantly say that is cost effective, which makes it the perfect wallpaper when decorating on a budget.
Faux Panelling Wallpaper
We have a vast range of patterns and designs of the faux wood panelling wallpaper. We have the traditional tongue and groove wallpaper panelling. This is a lovely and yet again neutral grey colour. This will go with any colour and provides a rustic yet clean edge to your walls. You could go down the old fashioned route of wallpapering half a wall and finish off with a simple dado rail which you can pick up for a few pounds at B&Q just to finish it off.
So it is up to you on how you use this functional wood panel wallpaper. The choices are innumerable. Add texture and layers to your room once you have decorated the walls with this. affordable alternative to tiling and drywall interiors. As modern and sophisticated as it is robust and long-lasting, tongue-and-groove wall panel wallpaper present endless decorative opportunities and can be neatly papered into any large, or confined space. 
The pattern on our white and grey Wood Panel Wallpaper is printed on flat wallpaper with no texture in order to achieve a realistic, smooth finish. Decorate and put your own stamp on it. And remember we love to see your before and after shots of any room transformation. Be sure to tag us in on Instagram. Our Instagram handle is @wallpapershop.co.uk and we will be happy to repost your new gorgeous room on our stories. Show us your hidden talent and inspire us.
Summary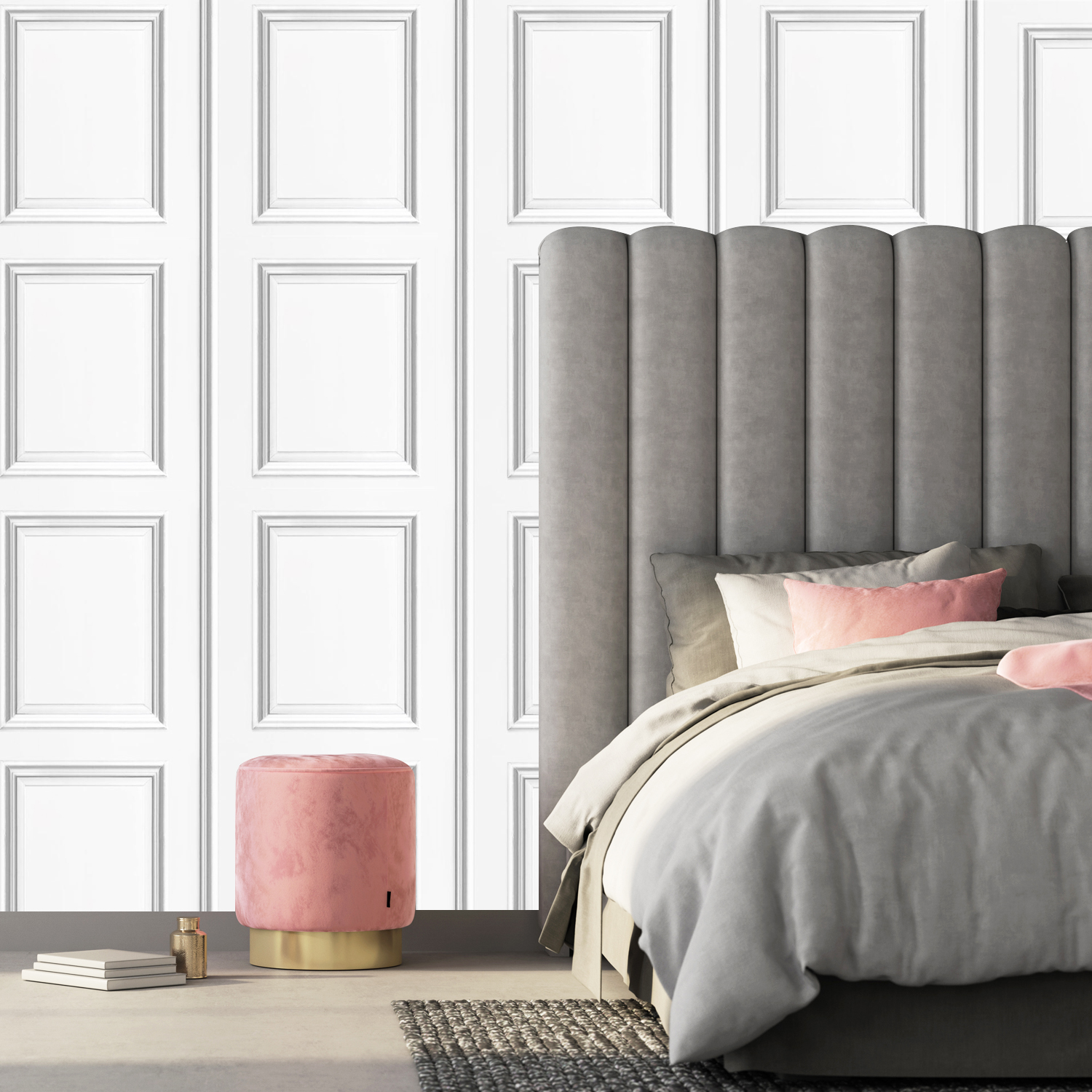 Author Rating
Brand Name
Product Name
Wood Panel Wallpaper White Grey
Price
Product Availability