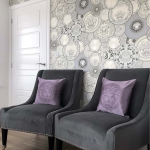 Versace Wallpaper
/
November 10th, 2020
/
There are currently 0 comments
Our branded Versace wallpaper is much to be coveted. The quality is superior in contrast to most standard wallpapers on the market. I love this Versace wallpaper for many reasons. One main positives about the Versace wallpaper is that it is 70cm which is wider than your standard 53cm wallpaper rolls. This means less wallpaper to use on a wall which can work out cheaper than you planned.
Versace first came to our attention with his distinguished designs which set him apart from the other designers of the 1990's. And who can forget he alone revolutionized the catwalk in 1991 where the first penned word Supermodel was written. The crowds fell silent as the inimitable sounds of George Michael's Freedom! '90 filled the hall, which signalled the arrival of supermodels Linda Evangelista, Cindy Crawford, Naomi Campbell and Christy Turlington, wearing red, yellow and black cocktail dresses and lip-synching along to the hit single in an epic reprisal of their appearance in the David Fincher-directed music video, released the previous year. In one moment the fashion world changed forever.
Versace Wallpaper – Which Design To Choose
So now you have read our blog post it is time to add that designer patterns to your abode. Its such a shame that Gianni died so young. I strongly feel a deep connection as he started the brand the very year I was born. Founded in 1978 in Milan, Gianni Versace S.r.l. is one of the leading international fashion design houses and a symbol of Italian luxury world-wide. The designer, manufactures, distributes and retails fashion and lifestyle products including haute couture, prèt-à-porter, accessories, jewellery, watches, eyewear, fragrances, and home furnishings all bearing the distinctive Medusa logo.
Thankfully his vision runs in the family and the brand was taken over by Donatello just after his untimely death. So when it comes to choosing a design for your walls which one would you choose? Here below we have a strong list of the most wanted patterns, designs and styles. But be prepared to be copied when inviting guests to stay as this is a brand that evokes plagiarism. Your invitees will start asking where you got your wall coverings from. There are lots of cheap replicas out there its easy to see that this brand just oozes class and refinement.
The History Of The Versace Brand
I do not know how much you know about Gianni Versace! But there was an amazing documentary style film based on his which aired a few years ago. Up until then I only knew that he was Italian, and had a keen eye for fashion. The brand started in 1978 after lots of hard work, blood and tears. The moral was he never gave up and learned quickly of his mistakes. He was a dedicated family man and had a strong close bond with his sister with whom he trusted implicitly.
He created the first proper runway which we see today. His talents did not just stop at clothing it merged into homeware including towels, soft furnishings and the wallpaper you see on our website. The documentary was a big insight into his life which sadly ended quickly due to a young man who became obsessed by him and shooting him outside his home gates. The whole world mourned and his funeral was even attended by Princess Diana and Elton John just to name a few. What a mesmerizing send off.
well now we have discussed the history let us discuss each wallpaper style in depth. Firstly lets start with the most popular.
Versace Greek Key Wallpaper
Then came the home decor range. Our Greek Key Versace Wallpaper comes in four palettes. This large Greek key wallpaper is very popular due to the discreet pattern its not too over facing or wild. This Versace wallpaper Greek key comes in Black, Silver, Gold and White. There are plenty of this Versace look a like wallpaper out there. But sadly they are in no way in comparison to the designer appearance the original has. You only need to feel the quality of this wallpaper to see why this stands out. The Versace black Greek key wallpaper and the Versace silver Greek key wallpaper is by far the top selling colour ways.
The pattern is bold yet understated and I think this is why it will blend easily with any interiors. It is a neutral palette with a little shine so will suit any style of home. It will co ordinate with a contemporary or modern decoration which makes this Versace design so versatile.
Medusa Wallpaper
The Versace Medusa Head Wallpaper epitomises the words exclusive and elegant. If you are wanting that luxurious feel to your room then this is the wallpaper for you. The fashionable Versace Medusa head logo dominates this wallpaper and is perfect for if you want to cover all the walls in the room or create a main feature wall. The brand Versace evokes glamour and chic so bring this in to your home by adding this design to your room.
We also do this Medusa wallpaper in a silver colourway and each design is on a soft metallic backdrop. The Medusa head almost has a wet look to it which matches Donatella's fashion range. The famous Medusa head wallpaper is the branding logo that Versace is well known for. Having this wallpaper immediately brings the designer into your home.
Versace Plates
When I first saw this wallpaper my initial reaction was WOW. Not only is it stunning but the print really grabs your attention. And again the famous Medusa head logo appears through out this print. This Versace Plates Wallpaper comes in a bright vibrant yellows and blues. Or your can go for more sedated colours such as the soft grey or white hues.
The Versace plates wallpaper is what I would consider a vintage print. It is filled with exotic round plates filled with Greek patterns and Lions heads. The design looks a little from medieval Rome mixed in with the Greek fables of old. The grey Versace plates colour is the same print but less vibrant and more subdues which will blend in well if you want this Versace print but without the bling.
Pink Versace Wallpaper
We get lots of emails of customers searching for pink Versace wallpaper which is why I feel the pink Heritage Versace La Scala Del Palazzo ticks all the boxes. It oozes designer decadence but also looks feminine which is ideal for a Versace bedroom wallpaper. The blush pink Versace Wallpaper Heritage Ornament Wallpaper is another contender. The soft blush rose pattern lies on a soft cream background and just instantly causes a calming effect.
This design is inspiration from Versace's Milanese palazzo in Via Gesù, this wallpaper is inspired by the scenic marble staircase leading to the private quarters. It comes in black, grey, cream and the beloved pink colour. This cheap Versace wallpaper costs less than if you bought it from anywhere else. We are the lowest price suppliers of this exclusive designer brand. You only need to click on the Versace website to see we are a lot cheaper in price comparison.
Versace Baroque Wallpaper
Now this is a print to shout from the roof tops. The Versace baroque wallpaper is sublime. If you want a impressionable pattern for your walls then this could be the one for you. With its swirling leaves that cascade this wallpaper design rich in deep textures. This wallpaper again comes in three shades that will suit all decor. Which one would you choose? Personally I love the silver hue as the silver pattern sits on a thick textured white back drop. I always think that silver grey and white will go with any style of room. Again its a neutral tone so will blend in with most colour palettes.
One customer kindly sent us a photograph of this wallpaper and we had the most likes. You can see the photo by clicking here. I love how the customer used the Versace baroque wallpaper by adding a gorgous plush velvet corner sofa, a grey shaggy rug, and mirrored coffee table which reflects the wallpaper pattern perfectly. Not only the that the soft glow of the fire makes the living room look more inviting.
Green Palm Wallpaper
The Versace palm wallpaper happens to be my favorite. Again you only need to google or Instagram Versace Palm and the reels of photographs will show you instantly what there is to love about this wallpaper. Not only does it make you feel like wanting to book a holiday to somewhere warm and tropical. It also just adds some splash of colour to tired and dated decoration. give your bedroom, living room, pantry, walk in wardrobe a dash of warmth by adding this statement designer wallpaper.
This year especially has seen a rise in palm wallpaper as seen in our other blog post here. This bright green palm pattern was seen a lot in Instagram posts from the rich and famous showing their stay in the The Beverly Hills Hotel. So this Versace palm wallpaper is in keeping with this stunning trend which is loved by many influencers.
Heritage Ornament Wallpaper
This designer wallpaper actually has Versace wrote on the edges of each square. This will leave your guests in no doubt that this is a designer wallpaper. You may even find they may copy you as it is gorgeous. As I stated earlier the pink versace wallpaper in this range is perfect for a calming tranquil bedroom.
This is also a gold Versace wallpaper, silver Versace wallpaper, black versace wallpaper and cream Versace wallpaper. Again these stunning shades will combine with all styles and interiors. Not only that but it is sheer elegance which will look graceful lining your walls.
Instagram Us Your Photos
I always end each blog asking you to send us your before and after pictures. There is nothing more pleasing than having a delighted customer forwarding us the before and after shots. Be sure to hashtag us #wallpapershop.co.uk or tag us in @wallpapershop.co.uk.
Summary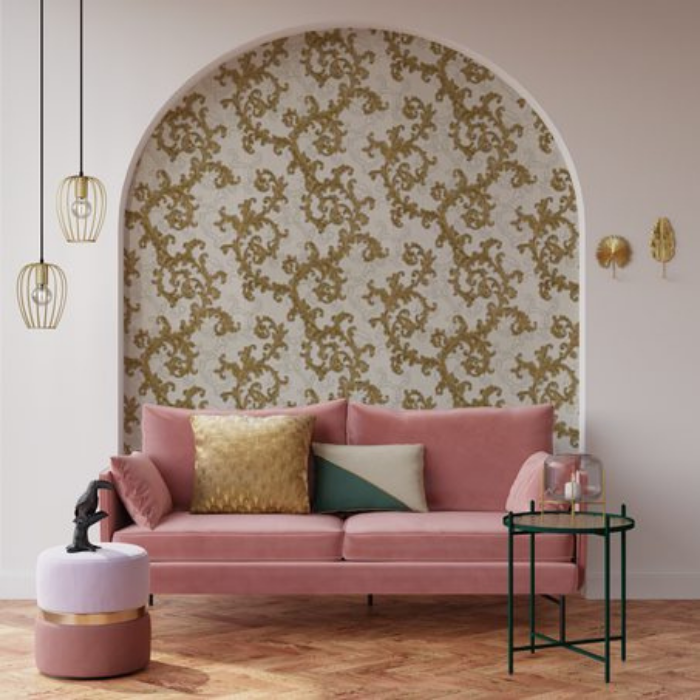 Author Rating
Brand Name
Product Name
VERSACE Baroque Roll Ornamental Wallpaper Gold Beige
Price
Product Availability