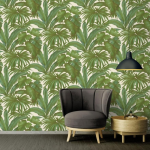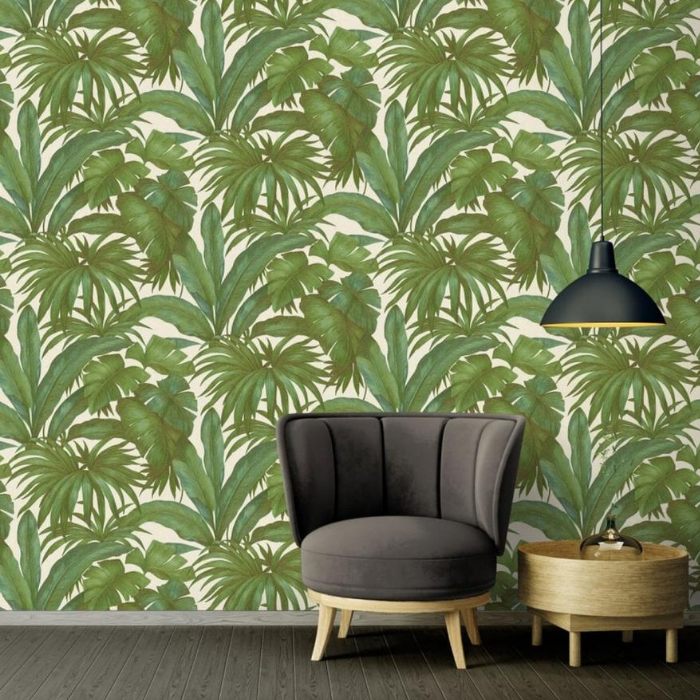 Palm Wallpaper
/
August 31st, 2020
/
There are currently 0 comments
Step into the hot tropics with our stunning range of Palm Wallpaper. We have a wide range of patterns, styles and colours it will be sure to make your head spin. Gone are the days of just the same plain green palm wallpaper that was seen everywhere. Today we have palm designs in different textures and even some glitter palm wallpapers.
So where to start? We my first obsession with palm leaves wallpaper came from seeing a post on Instagram many many years ago featuring Alice Leyland Naylor who I have followed for years. To me she is the epitome of class and style when it comes to fashion and interiors. Her Instagram handle is @MRSALICE. Well I saw a post of some gorgeous Palm wallpaper in one of her posts when she stayed at her favorite place called The Beverly Hills Hotel located in Beverly Hills 90210. So after seeing this stunning palm leaves pattern which was green leaves upon a sublime pastel pink hue background I was hooked. Then I saw she had decorated her town house in a replica of huge banana leaf pattern wallpaper. So the obsession started in my love for palm print wallpaper.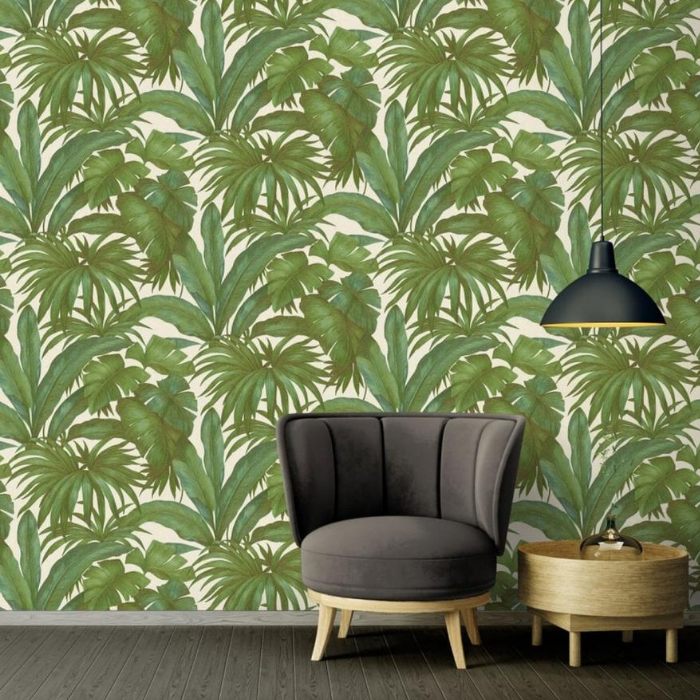 Palm Wallpaper – Tropical Leaf
So what kind of impact do you want to create? Our best selling Versace Palm Wallpaper in green is beyond luxurious. This wallpaper definitely has the wow factor and will bring instant glamour to your walls. Add some golden accessories such as picture frames or bedside table and add a sumptuous velveteen headboard. And voila your have a room that is fit for a queen.
You do not have to go with the traditional green pattern We have the stunning South Beach Palm Wallpaper in a beautiful pink and green which screams out "we are on vacation vibes."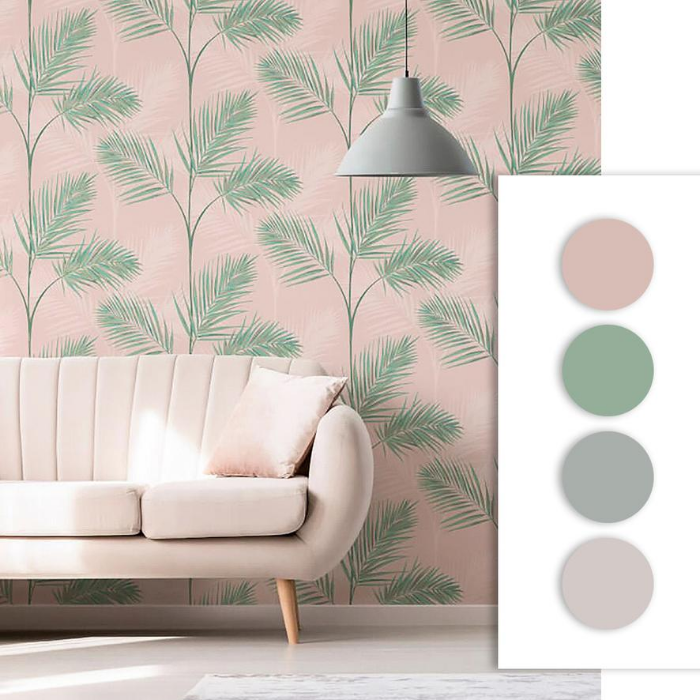 Banana Leaf
So when it comes to selecting a print what do you choose? I personally think a small room such as a downstairs toilet always looks amazing with a really large bold print. It will actually make a teeny tiny small room such as a coat room or small toilet look even larger! So we have a large palm leaf wallpaper that just oozes hot tropics. Our wallpaper comes in grey, pink, navy and the popular green colouways. We have designs that picture wildlife as seen in the Amazon and hot lands. We have our popular Botanical Palm Wallpaper which is by far one of our best sellers and it is easy to see why. This large banana leaf print just looks gorgeous and it comes in not just one colourway. We have a mottled textured green and then a mixture of dark and light greens followed by a stunning plush navy colour. Look at the picture below to see how beautiful it looks. And when teamed with a soft coral, mint green (pantone of the year) and a industrial grey you have interior heaven.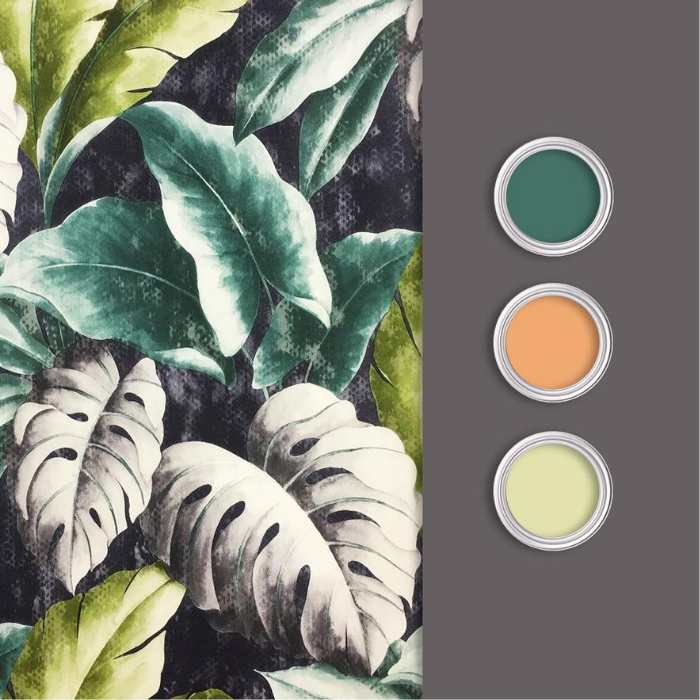 Tropical Leaf Wallpaper
Escape to the tropics with your decor there are so many accessories to add extra glamour to your room. We have some decadent cushions in gold called The Suki Peacock Cushion which is a stunning gold foil material. And a golden foil black velvet Leopard cushion. With so many golden accessories in the shops to add that extra oomph and make your room look original add some other textures and why not throw a random colour in to add that extra ohhhh la la. I love pink and green or a royal red just to mix it up.
Whatever you choose be sure to show us how you have used your Palm wallpaper we will be delighted to see the before and after pictures. Nothing beats seeing a dull drabby room with no colour or life in it and then see it transformed into something awe inspiring. So go on and wow us with your transformation. Be sure to tag us in on Instagram at @wallpapershop.co.uk
Summary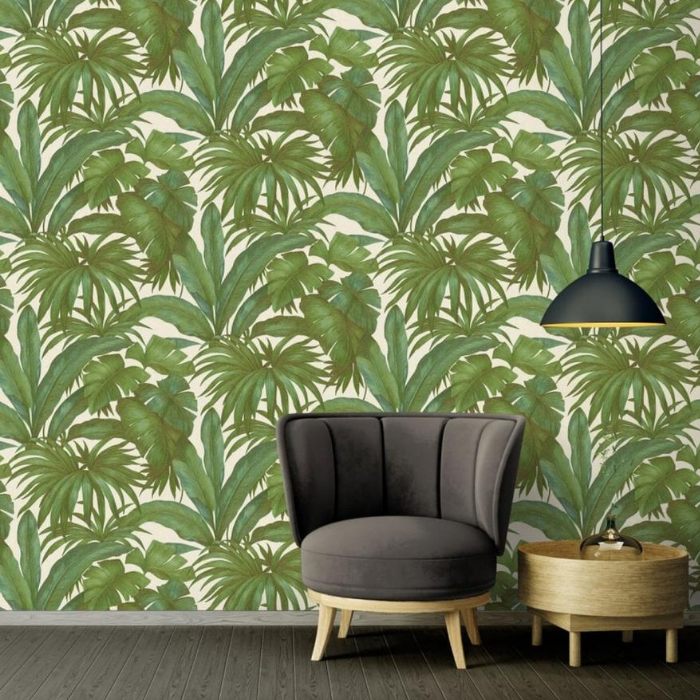 Author Rating
Brand Name
Product Name
VERSACE Palm Leaf Wallpaper Green
Price
Product Availability