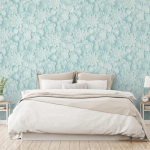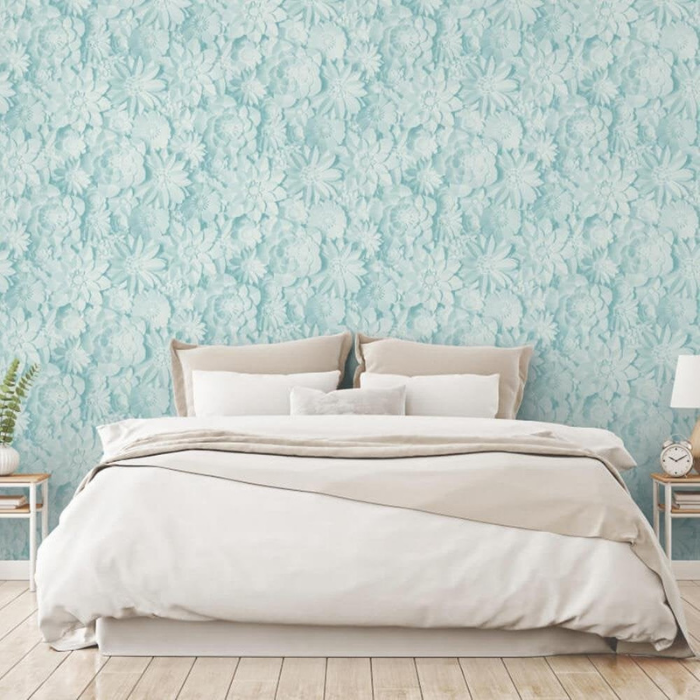 Teal Wallpaper
/
November 25th, 2020
/
There are currently 0 comments
One of the most sought after colours this year has to be teal wallpaper. For some reason this is in high demand. I often get phone calls saying I do not want blue or green but something in between. So my initial reaction is duck egg or teal. I always find this is an easy colour to add to any interiors as it is a fresh vibrant colour and suits every season. I have to admit the colourway that we sell the most of is teal and gold wallpaper.
The styles, designs and shades of this selected coloured wallpaper is countless. I will go into detail of our best sellers of teal pattern wallpaper and a brief description of each style if your struggling to choose. The very first time I cam across this colour was when I started my first job at Laura Ashley. Up till then I had never heard of it so it was a true eye opener. Every customer wanted living room teal wallpaper.
Geometric Teal Wallpaper
Teal geometric wallpaper is perfect for any client who wants a fresh modern feel to their home. The different patterns on the market today will not have you struggling to choose one. How times have changed as a decade ago everyone had the same wallpaper due to there only being a selected amount of designs. One the top favorites at the moment is the Zara Quartz Wallpaper which comes in a deep green shade. The apex shapes are highlighted by golden metallic. This teal and gold wallpaper is by far a winner with the home interiors stylists.
Floral Teal Wallpaper Designs
Straight away when I think of teal floral wallpaper our 3D flower dimensions wallpaper rushes straight to my mind. The reason this came up immediately was the amount of positive feedback we receive and the customer photos from this design. When you first look at the picture it does not jump out. But seeing real life customer photo's we are awestruck at how this wallpaper just jumps out. The impact is unbelievable so if you want a wallpaper that has the wow factor then this is the one for you. Just look at the picture below. The pop of colour just looks stunning. I love this teal flower wallpaper.
Glitter Sparkle Walls
Teal glitter wallpaper will just add the glam factor to your decor. We have a glitter wallpaper that is full on sparkle that it looks like a mirror and as soon as the light hits it, it just glistens and sparkles like fairy lights. Then we have the more sedated glitter effect that isn't too sparkly but more of a soft sheen. The styles for you to choose from are extensive as we have some pretty teal glitter tree wallpaper. Another popular one is the Nail Salon Crushed Wallpaper Teal which consists of a decadent sequin effect pattern. It looks really expensive and uplift any tired decor.
It doesn't always have to be a plain glitter colour if that sounds a little boring there is much more which I will will explain now.
Striped Patterns
So what is your preference a large dominant wide stripe or a thin barcode style stripe? we even have a mixture of different width stripes but the one that sells really well is the classic mid width stripes with added metallic shine to them. the teal and silver wallpaper striped wallpaper is an instant hit. A plain and simple design that is extremely effective and speaks volumes in regards to it's style and vibrancy. Choose from a wide or thin stripe or go horizontal or vertical with the wide or pinstripe patterns. Our stripy wallpaper comes in a wide range of textures, styles such as glitter stripe wallpaper. There are chevron striped wallpaper that just looks cool and modern in a childrens bedroom.
Vintage Damask Patterns
Add some teal damask wallpaper to your walls. This design is such a classic that you will fail to go wrong if you struggle putting together styles as some of us are not quite natural at styling a room and even the though of it can send shivers down the spine. So if you are looking a a simple patterned wallpaper then this could be the one style that you will be happy with. Vintage damask wallpaper graces the walls of both modern and historic homes. I love the fact that some are flocked or smooth metallic that looks extremely luxurious and stylish.
Here are some useful facts about this on trend colour Teal is a blue-green colour. Its name comes from that of a bird—the common teal (Anas crecca)—which presents a similarly colored stripe on its head. The word is often used colloquially to refer to shades of cyan in general.
The first recorded use of teal as a color name in English was in 1917. It is derived from the Middle English tele, a word akin to the Dutch taling and the Middle Low German telink. As a colour, its name is believed to have been taken from the small freshwater common teal, a member of the duck family whose eyes are surrounded by this color. Some facts there that I never knew. And did you know that Teal was subsequently a heavily used color in the 1950s and 1960s. Again this was something that I did not know.
Plain Teal Wallpaper
The perfect option though is if you have uneven walls is plain teal wallpaper. This can come in a natural linen effect style which has a subtle pattern of a material weave on the paper that will make it look a little textured which is a great option when trying to hide unsightly bumps on the walls. Which hue you decide on when coming to choose teal textured wallpaper will be completely up to personal taste. You can select from dark teal wallpaper or light teal wallpaper!
Summary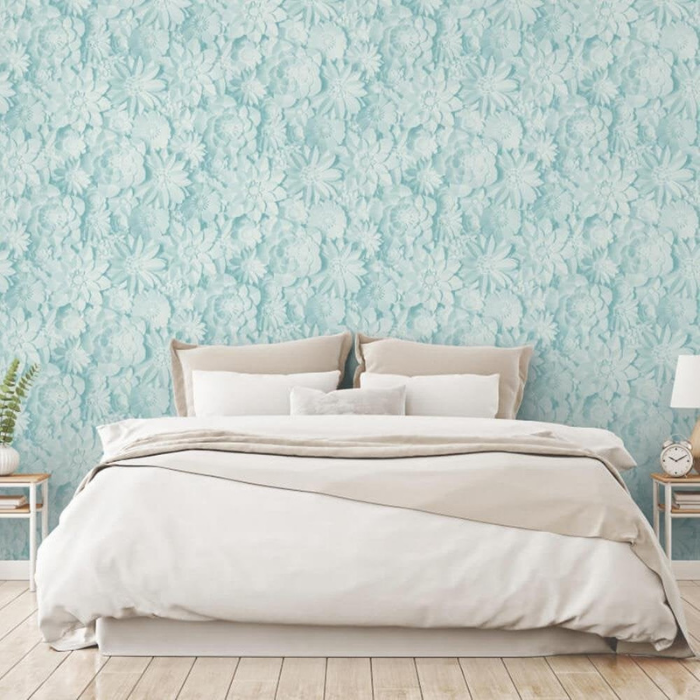 Author Rating
Brand Name
Product Name
Dimensions Floral Wallpaper Teal
Price
Product Availability