Red Toile De Jouy Wallpaper
/
July 26th, 2022
/
There are currently 0 comments
Choose a red toile de Jouy wallpaper for your next project. This wallpaper just exuberates Escape To The Chateau vibes. This Provencal scenic wallpaper has an air of French je ne sais quoi. This stunning wallpaper has been designed exclusively for Wallpaper Shop.
French Red Toile De Jouy Wallpaper
Whatever style you choose to follow, the essentially calm atmosphere is established by a laissez-faire approach. You need to create a room with a settled air that emanates from leaving things as they are – which is easier said than done. This style requires an indulgent attitude to present a light elegance in which to relax. Using our Red Toile De Jouy Wallpaper is a rich deep red colour that conveys a traditional mood, toned with a softer lighter backdrop that keeps this design from becoming too overpowering.
Using this wallpaper can give the impression that the room has always existed. The colour scheme must provide a harmonious backdrop for all your matching soft furnishings and accessories on view. The effect of this wallpaper can be strong without being flamboyant; a bold pattern in a limited colour gives unity and a sense of purpose to a room.
Toile De Jouy Wallpaper & Accessories
Texture – This is an important decorative dimension that has special significance in a shabby chic French-inspired setting. Whether you choose a traditional or contemporary scheme use our Red Toile De Jouy Wallpaper. Contrasting textures can be as interesting as combining colours or patterns, and often more appealing visually in a room already furnished with eye-catching fabrics and accessories. Our Red Toile De Jouy Wallpaper goes with our Escape To The Chateau collection that we stock by Angel Strawbridge.
Consider the contrast of matt upholstery fabric in canvas or French ticking against rough cotton and linen. Or slubbed hessian with a smooth felt or boucle cushions. Combining this classic wallpaper with wooden paneling, parchment, tapestry, and other textures such as Bergere, wickerwork or rattan adds a modern but classic feel to the room that alleviates an overpowering sense of tradition.
French Inspired Walls And Windows
Walls – With any room decoration it helps to have a starting point to guide ideas of colour and pattern. In a French-inspired room, the whitewashed furniture is an element that gives both structural and atmospheric suggestions. Why not add a bookcase or shelving as the presence of these add on's add an extra dimension of texture and colour.
Windows – Choose a style that is sympathetic to the scale and balance of the room. Where walls are the focal point, whether strongly patterned or book-lined, the curtains need to blend into the overall decoration without standing out as a separate feature. Where the walls are more of a backdrop, the curtianscurtains or blinds can come forward in a striking pattern or bold colour. Daylight is a crucial element of a French-decorated room. And should not be obscured by layers of imposing curtains or pelmets, but curtains do need to be generously full to give that settled luxury atmosphere.
The fabric of the curtain is important. A linen union, dobby weave, or French flax all have visible durability. A satin weave cotton or chintz creates a lighter and feminine effect. As the glaze adds luminosity and movement to the fabric. Alternatively, pale glazed cabbages & roses chintz acts as a restful and relaxed accent.
Toile De Jouy Inspired French Furniture
While creating an atmosphere conducive to relaxation and entertaining, the furniture in a shabby chic French-inspired room should be classic. The furniture establishes an air of peaceful and relaxing comfort. It should be substantial without making the room appear over-furnished or cluttered. Today there is seldom space to divide a room into areas for simultaneous reading, conversation, games, or study. Instead, the furniture arrangement can help to define the balance between study and relaxation.
The fireplace is a natural focal point to work from when deciding on the right arrangement for your furniture. A pair of linen sofas or armchairs could be positioned at right angles on either side of the chimney-piece. This will leave space in front of the fire for a whitewashed lime wood table to hold books, newspapers, and magazines. Or another alternative could be a fabric-covered ottoman with trays to hold reading material and candles.
Summary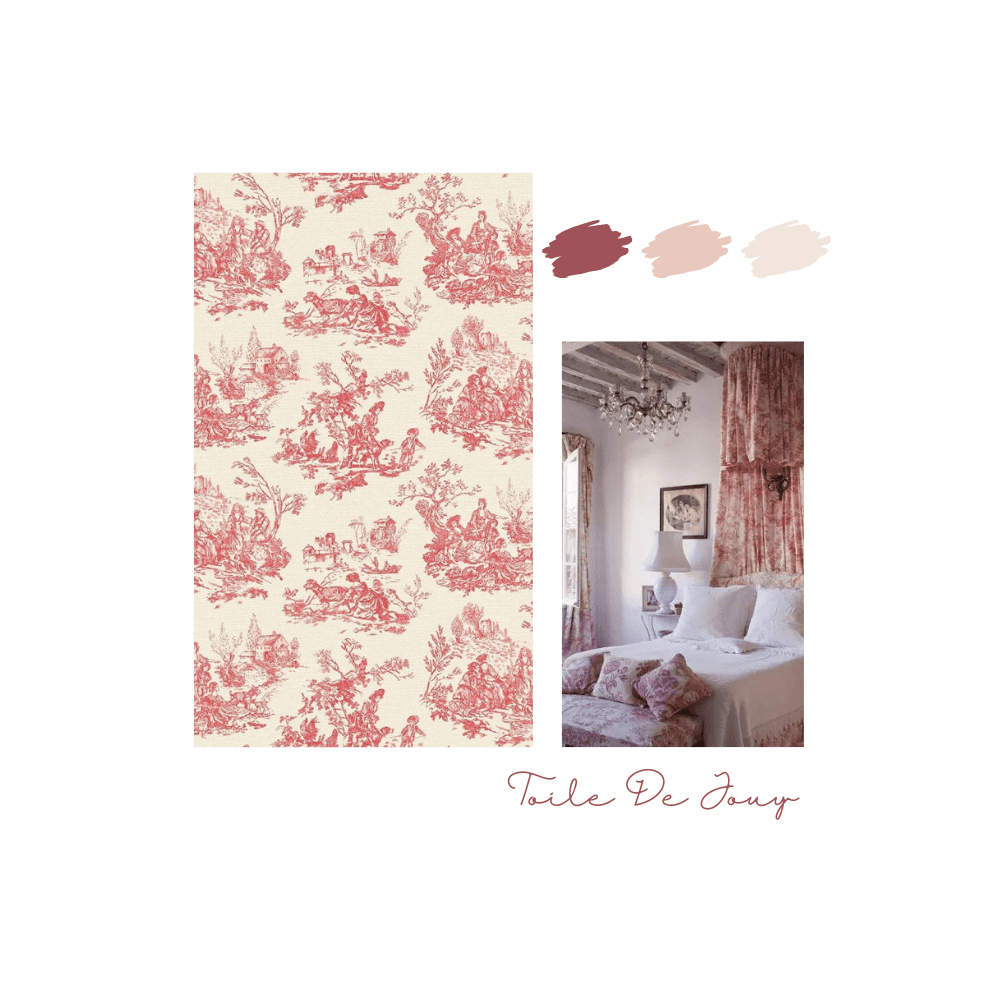 Author Rating
Brand Name
Product Name
Red Toile De Jouy Wallpaper
Price
Product Availability