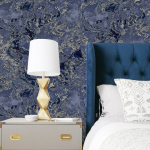 Liquid Marble Wallpaper
/
September 21st, 2020
/
There are currently 0 comments
The IN-STYLE wallpaper of the moment has landed here at wallpapershop.co.uk. That is the liquid marble wallpaper range. Shop this stylish marble-effect wallpaper, the wallpaper of your dreams. This design is the most coveted this season. And we can say this because our Navy liquid marble wallpaper just sold out within days.
So what makes this particular style the on trend wallpaper of the moment? The fact that it is so versatile and trendy instantly uplifts a room. If you are looking for a wallpaper that will transform a room and give it the wow factor then this is the wallpaper for you. We have seen so many metallic colours added as accessories. Take for instance the Rose Gold liquid marble wallpaper. This colourway looks gorgeous with matching accessories in Rose Gold. Take for instance the Rose Gold Dantzig Lamp by Iconic Lights this is just perfect to combine with this wallpaper. Then add some cozy sumptuous blush pink cushions. And voila you have a new and chic and classic room. This happens to be the favorite aesthetic marble wallpaper for bloggers and instagram influencers
Liquid Marble Wallpaper – Black
Our black marble wallpaper ticks all the boxes. This decadent colour way instantly adds glamour. With the golden metallic highlights this is the perfect wallpaper. Its sleek appeal with look mesmerizing in any home. You can easily use this wallpaper while decorating with a low budget and use as a feature wall. At only £13.95 a roll this black liquid marble wallpaper from Debona is a steal. If you use this as a feature wall you can then allocate more money to a gold coffee table, golden lamp or some of our gorgeous gold foil cushions.
We have spoken about glitter wallpaper in another blog and black wallpaper which also look as alluring. The Black or White Marble Wallpaper just brings an air of modernistic vibes. I will discuss more colours in the range with you and how to co ordinate these looks.
Pink Marble Wallpaper
Ok so we spoke about Pink Marble Wallpaper which we have in the Liquid Marble Wallpaper range or the Elixir Marble Wallpaper Collection. They are both stunning. And again so easy to change a look of a room. We have many first time buyers or serial house renovators who just love to use this colour. Think also of your little girls bedroom. Gone are the days of the traditional girls bedroom of pink fairies. Young girls want a more modern, trendy, cool and cute wallpaper. The Rose Gold Marble Wallpaper ticks all the boxes. A little girls bedroom will feel grown up with this pattern. Then you can add all the decorative nic nacks such as fairy lights, fluffy cushions etc to make it feel like a proper little girls bedroom.
Marble Wallpaper Blue
Our Blue Marble Wallpaper along with the silver grey marble wallpaper is by far our top most wanted colour this season. We brought in several boxes of the Navy Marble Wallpaper and sold out within days. It was crazy but needless to say it is sought after that we bought more stock in immediately.
So the blue marble wallpaper continues to sell out as soon as it comes in. But we have two blue colourways. One is the popular Navy Blue Marble Wallpaper which we have discussed. And the other is the Muriva Elixir Blue Marble Wallpaper which is a softer light blue. Again this would stunning in a baby boys nursery or a boys children / kids bedroom. Put it together with grey curtains, cushions, and silver lights. And straight away you come away with the busy prints we tend to see with little boys bedroom wallpaper. And you have a classical, relaxing, and stylish boys bedroom.
Both designs look every inch fabulous of our plain marble wallpaper collection. But the Debona Liquid Marble Wallpaper is a little thicker and has flecks of glitter and metallic highlights within the design. The Elixir Marble Wallpaper is much more softer in colour so if you are looking for a marble wallpaper that is not too dramatic then this is the one for you. It has a softer sheen to it and the colours are very pastel. The prices are not too expensive and I do not want to use the word cheap but they really are cheaply priced for the value and quality of paper you do receive. At only £10.95 or £13.95 it is daylight robbery, these wallpapers are perfect for decorating on a budget.
Summary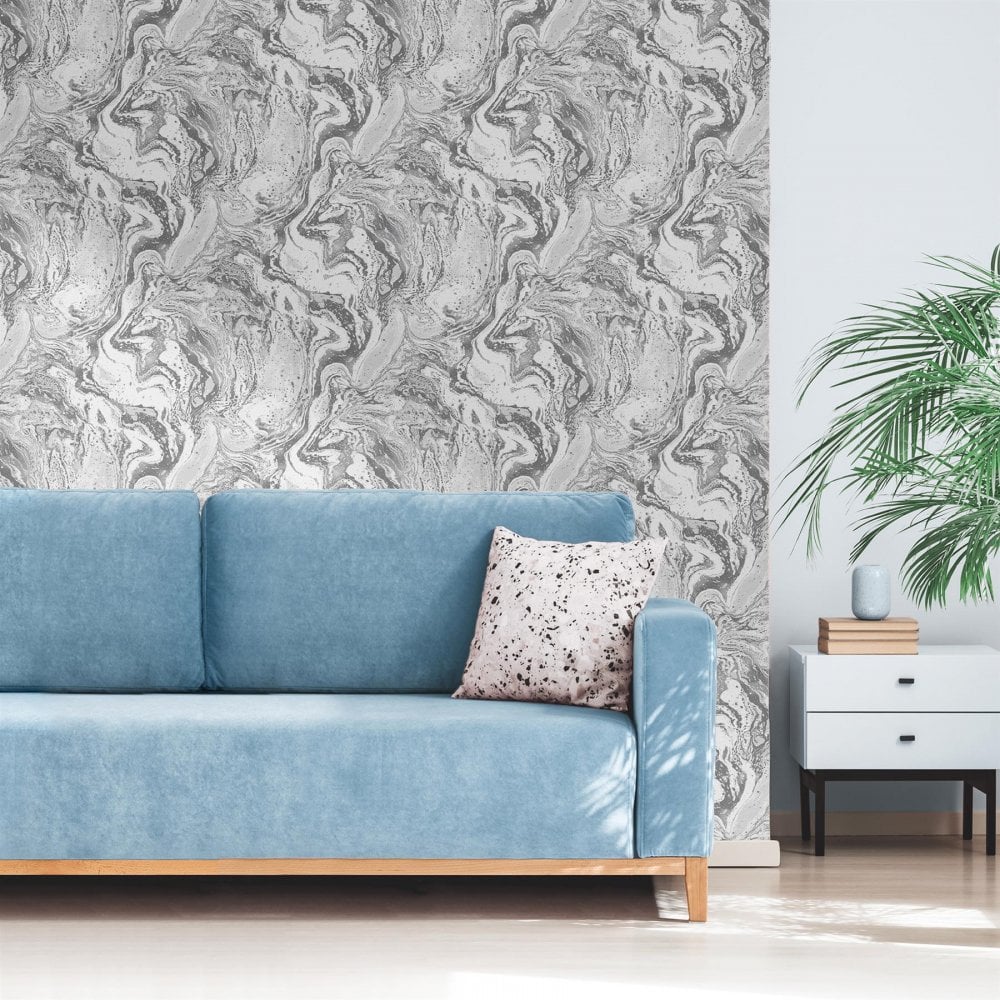 Author Rating
Brand Name
Product Name
Marble Wallpaper Grey Silver
Price
Product Availability