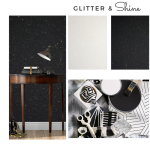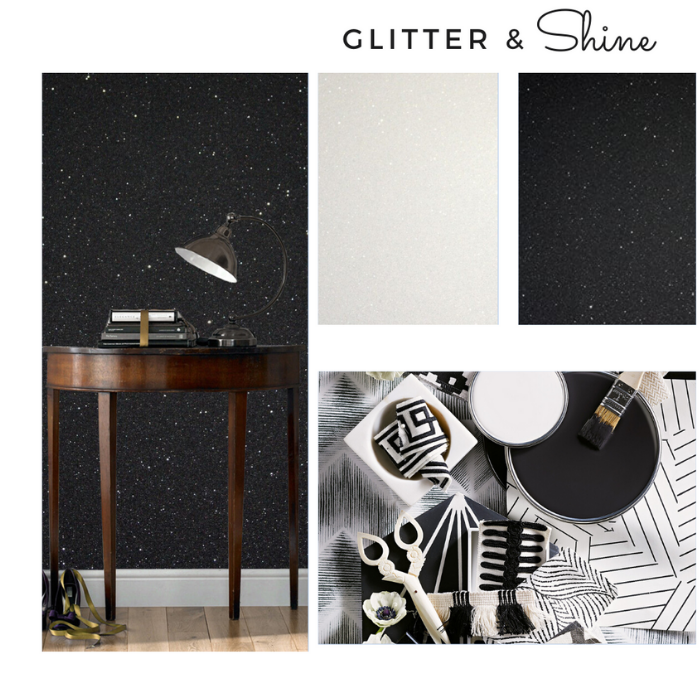 GLITTER WALLPAPER
Glitter Wallpaper
Add some sparkle to your walls with glitter wallpaper. Here at Wallpapershop.co.uk we have so many shimmering designs and patterns that will make your head spin. We have every colour including the popular Rose Gold, Silver or Gold glitter wallpaper. You could add a little more pattern by using our most sought-after Madison Rose Glitter Wallpaper. This design hich comes in all colourways. This floral pattern is a large glitter flower which is one of our biggest sellers. And its not hard to see why.
Sparkle Wallpaper
I just love a chunky glitter wallpaper that glistens and shines as the light reflects it. Not only that a sparkle wallpaper automatically lifts and brightens a room. You can buy some cheap glitter wallpaper that still looks effective. So you do not have to spend a vast amount to still have some glamour and elegance to your home.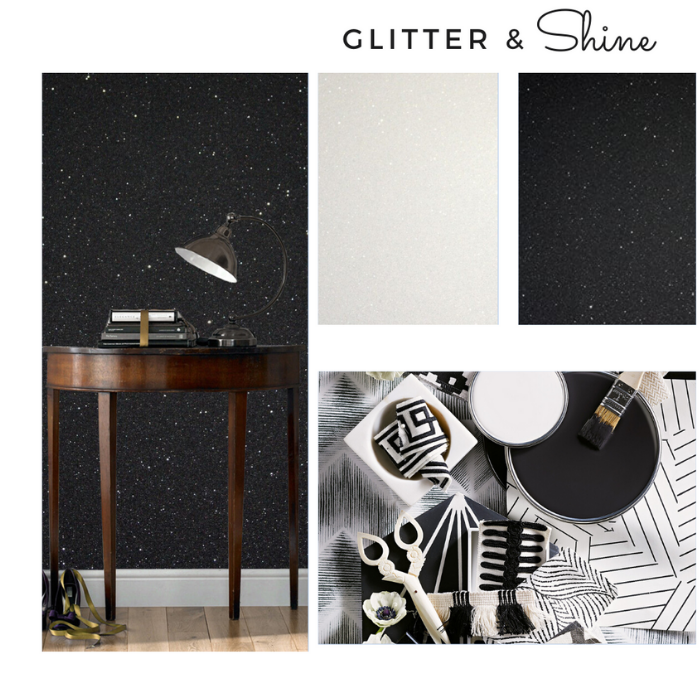 Glitter Wallpaper By The Roll
So, with lots of colours to choose from the next step is to choose a style or pattern if you want shimmering walls. But be warned there are so many styles to choose from you will be spoilt for choice. I personally like the plain designs such as silver glitter wallpaper or pink glitter wallpaper. But there is some gorgeous rainbow and unicorn glitter wallpaper which just look cute in a baby girls nursey or girl's bedroom. And do not get me started on the glitter damask wallpaper which just looks so grand. I have seen this design in every age of home and it just looks elegant.
You could go for a classic black and white striped sparkle wallpaper which never dates as it is a timeless. Then dress it up with gold or silver accessories. Some designs out there feature a modern glitter brick wallpaper which again is a classic and timeless and you can have your room transformed into a modern loft house or keep it looking like an old rustic cottage.
Sequin Wallpaper
There are some interiors that feature a sequin wallpaper or a 3D glitter wallpaper and these instantly look chic and stylish. So how do we use this trend in our homes? I will give some advice. Firstly, I will decide if I want a feature wall or a statement wall! Or do I wish to create a whole room of bling and use it on every wall. You can even use it on the ceiling, but I will come to that later.
Create A Feature Wall
So, you have chosen to just decorate a feature wall and style it with our shimmering dust wallpaper. Which wall do you want to focus on? The main walls that look good is the wall which has a focal point such as a fireplace (here is where the glitter brick wallpaper looks amazing). Or the TV wall could be the main wall. You may even decide to just wallpaper the inside of the alcoves at each side of the fireplace, this also looks effective.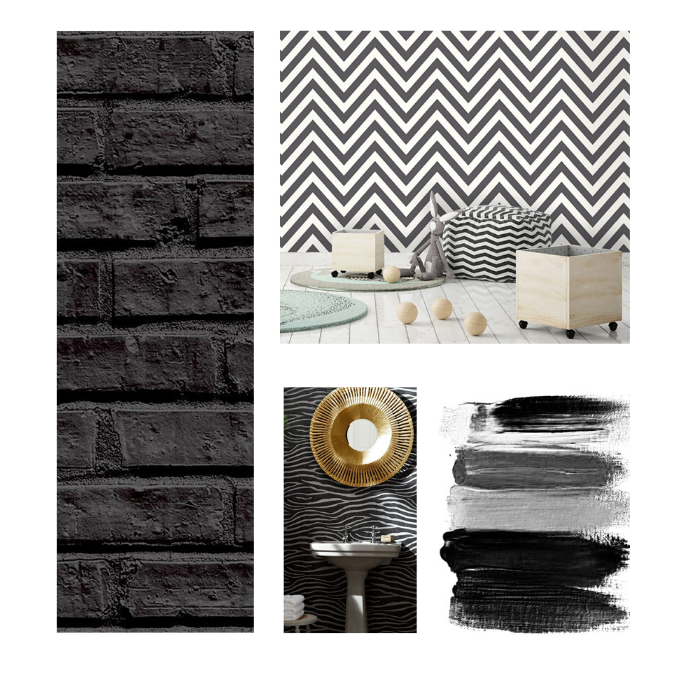 Glitter Striped Wallpaper
Striped Sparkle wallpaper is a winner for all your stripy fans out there. And this design can be used on just a focal wall or all walls. A popular trend at present on Instagram is the glitter stripe effect. The idea behind this is to use a smaller amount of glitter whilst keeping a sparkling glamorous effect. I am also seeing lots of Dalmatian black and white wallpaper with little flecks of sparkly dust with looks just as effective as the stripes. The dotted effect is making a massive following with social media users, and I have seen it go from just a few posts to it being all over Facebook & Insta. So, watch out for this one for 2020/21 trends for the home.
Wallpaper On Ceilings
So, I said I would discuss decorating ceilings with wallpaper. Well brace yourself because even though 99.9% of people leave the ceiling alone. Or maybe add a ceiling rose (which we also sell. And I am a convert now I have seen these high quality resin designs. And yes I can fit them myself). Well getting back to using wallpaper on a ceiling, here goes. Have you seen the realistic glitter sky wallpaper? Well if you have not then you are missing something.
Decorating a ceiling with wallpaper may scare someone. But I have seen fluffy cloud wallpaper and skies grace a baby's nursery ceiling. while all the walls were just painted a plain cream. And the impact is out of this world. Not only that but by just putting this design on a ceiling and leaving the walls painted a soft cream colour. It just feels instantly calming. It automatically creates a place you where you and you child can relax, bond and make lots of memories.
The glitter sky wallpaper comes in varied hues & shades. So, you can pick a soft blue palette and it will look dreamy. Or add a soft pastel blush pink cloud wallpaper for the little Lady in your life. And it just looks warm and cosy. We do sell other colours such as purple or a black space design but the pink, natural & blue are our top sellers.
Last Words
I hope I have given you something to think about regarding our glitter wallpaper or sparkle wallpaper? By adding a dash of shimmering dust to your walls will help create a glamorous room. You can make it look decadent or rustic the choice is yours. If you want to create a room that will stay in style as the season and trends change which we all know is frequently. Then you cannot go wrong with this shimmering wallpaper.
Summary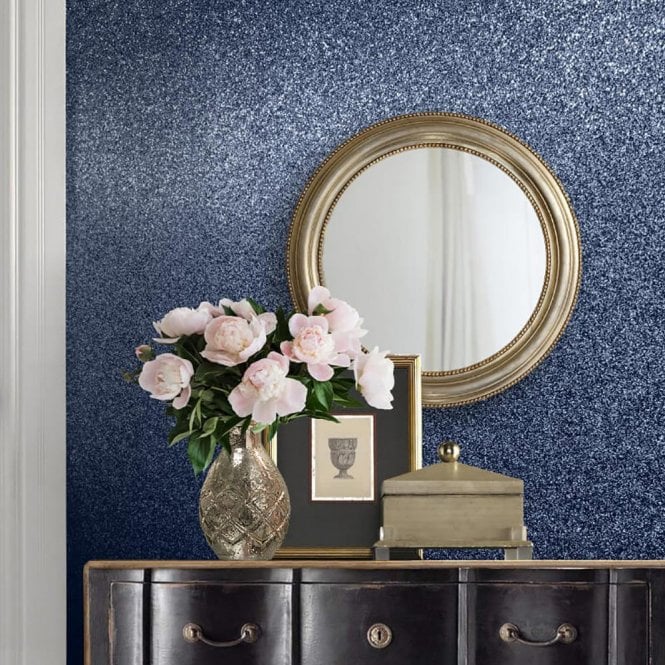 Author Rating
Brand Name
Product Name
Oriah Encrusted Glitter Sparkle Wallpaper Midnight Blue
Price
Product Availability