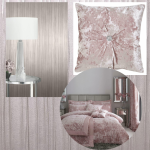 Kylie Minogue Wallpaper
So the Queen of pop has now launched her very own Kylie Minogue wallpaper collection. The disco Goddess has designed a range of wallpapers that add an instant luxurious aesthetic to your home, whilst maintaining sophistication. Think shimmering metallics which all combined with a neutral colour palette to really enhance the glamour. Be bold and make a statement with this trend. So before we go into detail about our new Kylie Minogue wallpaper. Lets concentrate on why this lady is now a home fashion icon.
Kylie Minogue Wallpaper – The Beginnings
So lets go back to the beginning. I remember when I was a youngster and the Australian soap opera Neighbours first came to our screens here in the UK. All ages were hooked I even remember both my grandma and mother watching in awe of the drama and love stories that unfolded.
With being so young at the time I was more interested in cartoons. But I do remember when Kylie first came on to our screens. Her character was called Charlene Robinson and she was depicted as a straight talking tomboy.
As Wikipedia states "Charlene trained as a mechanic and she often wore khaki overalls and baggy sweatshirts. Her relationship with Scott Robinson (Jason Donovan) was central to many of her storylines. They became a popular couple with viewers and the relationship helped boost ratings for Neighbours. Despite breaking up several times during their first 12 months together, the couple stayed together. And their relationship eventually culminated in a wedding during "Episode 523", which was first broadcast on 1 July 1987."
Kylie The Pop Years
Fast forward a few years and she became a household name through this prime air TV show. Then came the love song "Especially For You." A duet with her on screen love that went straight to number one here in the UK. Kylie then left the show to pursue her music career. In reality she grew from strength to strength. Over the years she has reinvented herself and her popularity has grown. I had to admit I have been to one of her concerts and she is a born entertainer. The crowds just love her.
Kylie Minogue Home
So when we first heard Kylie was designing a luxurious home collection she did not disappoint. It was exactly as I imagined, think soft, sparkle, and lots of shiny metallic' s. Kylie At Home added layers, textures and a dash of decadent opulence. Kylie Minogue wallpaper is the perfect base to start from. The advice we give when our clients are perplexed as to where to begin when decorating. Start with the walls and floor and then work in.
Kylie Minouge Next Texture Wallpaper
So let us introduce our kylie disco wallpaper the Kylie Minogue Next Diamond Texture wallpaper. This is a thick embossed vinyl wallpaper that not only looks gorgeous but it is hardwearing. The subtle pattern will allow you to add luxury to your walls and then add layers of velvet or sequins to your furnishings to create an opulent theme. The diamond shapes on this luxury wallpaper evoke the shapes of a disco ball. This Kylie Minogue wallpaper comes in four stunning shades of Ivory (Off White Cream) Truffle (a mixture of Grey and Brown) Fawn (Taupe) or Silver (which has a metallic shine to it). So we have a colour to suit all decor and styles.
Kylie Minogue Esther Textured Wallpaper
Our Kylie Minogue Esther Texture Wallpaper again comes in three colours of Ivory (Off White Cream) Truffle (Taupe) Fawn (soft brown beige). This gorgeous wallpaper has a subtle line, stripe running through. But again you have to see this wallpaper in person to appreciate the thick vinyl texture. When you look at the pictures it does not do the wallpaper any justice.
Here at wallpapershop.co.uk we are known for keeping designer wallpapers at sale, clearance prices. We do not believe in our customers paying over the top for good quality wallpaper. Our Kylie Minogue wallpapers are defiantly the cheapest on the market the RRP is only £17.95 a roll.
Be sure to follow us on Instagram and tag us in to your Kylie Minogue At Home transformations.
Summary
Author Rating
Brand Name
Product Name
Kylie Minogue Next Diamond Texture Wallpaper Fawn
Price
Product Availability