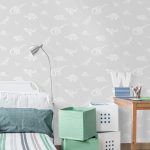 Dino Wallpaper
/
October 11th, 2021
/
There are currently 0 comments
Add a roarsome dino wallpaper to your little ones bedroom this year. We have a vast range of vintage dinosaur wallpapers, and cute dino wallpaper that will suit every home and budget. So if your looking for a aesthetic dinosaur wallpaper then look no further than Wallpapershop.co.uk
Our film favourite is the Dino Dictionary Wallpaper. This wallpaper is modern and stylish. I feel it is perfect for those parents who do not want a complicated or busy wallpaper. This Dino Dictionary wallpaper comes in three gorgeous colours. Choose from Green and White, Navy and White, or the popular Grey and White. Tell me which one you would select?
Aesthetic Dino Wallpaper
I discussed in great detail the fascination that little ones have with dinosaurs in another blog post called kids dinosaur wallpaper. But overall the obsession that both little boys and girls have with dinosaurs is awe-inspiring. You can have a toddler that is just saying his first words and the next minute they are correctly pronouncing the full titles of prehistoric mammals that once roamed the earth.
I love this Dino Dictionary wallpaper because its just a simple pattern. And within the cute dino shapes you have the wording of each dinosaur which I think adds some coolness to this wallpaper.
Cute Dino Wallpaper
Our Dino Doodles wallpaper happens to be one of our cute dino wallpaper patterns. Filled to max capacity of green, blue and red dino roaming the dessert plains. I adore this one as it would suit any gender. The bright and vibrant designs will certainly captivate your little ones imaginations.
Dino Murals
Have you seen our kids wall murals? If you have not you are in for a treat. Our Kvilis Dinosaur mural arrive a few weeks ago and everyone just smiled. Not only is this mural a beautiful pastel blend of cuteness but its perfect for a little ones nursery. This dinosaur mural has shades of pink, greens and greys so this makes it a perfect gender neutral wallcovering. You can also choose from a full wall mural or a round wall mural. I do not know if you already know this but even if you are working with a small confined space you will find that using a really large pattern will make any small room appear much bigger in size.
We have lots more cute toddler murals but the Kvilis mural by Retford wallcoverings seems to be popular as it is one of our best selling dino wall murals.
Dino Children's Wallpaper
There seems to be a 50/50 divide of wallpaper tastes when it comes to choosing wallpaper for a kids bedroom. Some parents like bold and brash colours to stimulate the childs imagination. There is also a more muted option for those parents that want a teeny tiny bit of colour but not too much. We feel here at Wallpapershop.co.uk we have a Dino wallpaper to suit all styles and tastes.
Meanwhile be sure to tag us in on Instagram so we can re share your completed room. That is the best part of working here and seeing all our customer transformations. So go wild with a Jurassic themed bedroom and make your little ones smile and watch the excitement when they first see there decorated bedroom or nursery.
Summary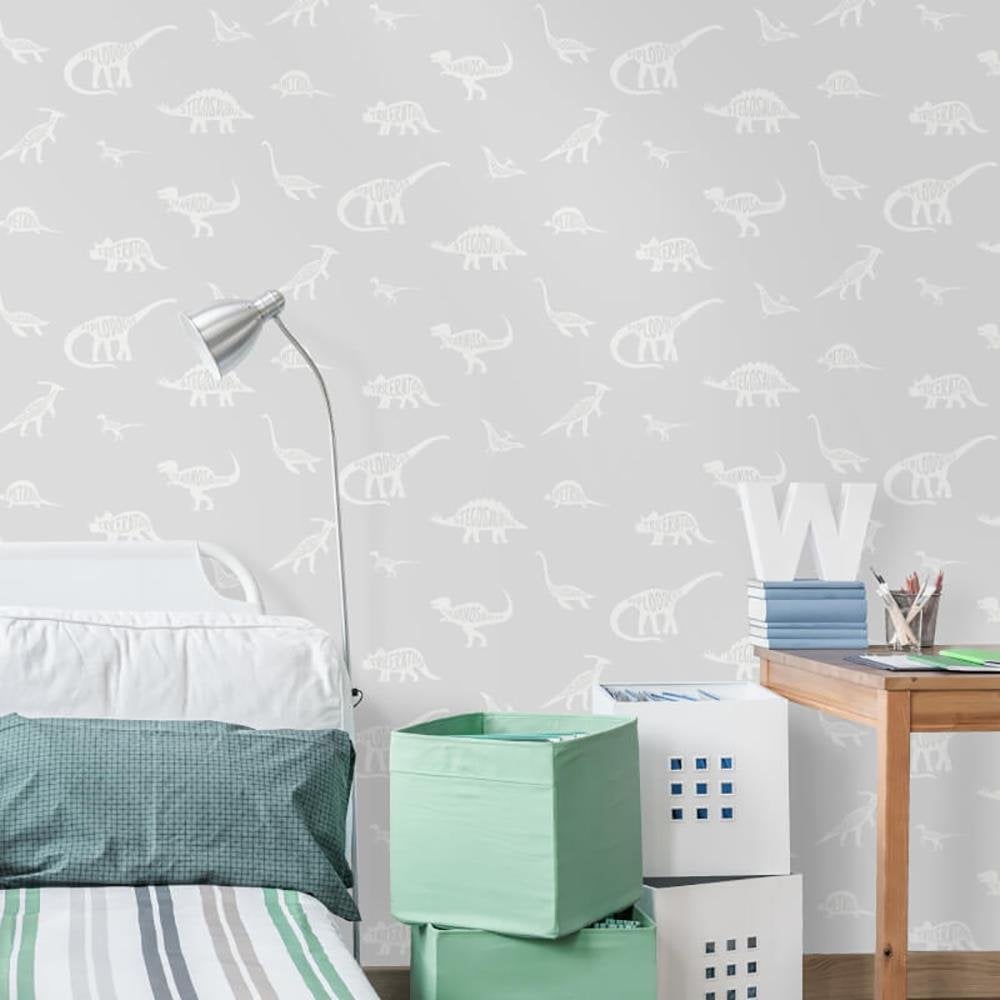 Author Rating
Brand Name
Product Name
Dino Dictionary Boys Bedroom Wallpaper Grey
Price
Product Availability