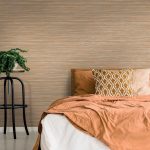 Different Types of Wallpaper Coverings and the Best to Choose
/
April 12th, 2023
/
There are currently 0 comments
Wallpaper is an interior trend that always stays in style. From the rich tapestries of the 1800s to the modern wallcoverings of today, wallpaper has certainly evolved over the years. Still, it remains an interior décor must-have, with designs to suit any taste, from traditional to contemporary. In this blog we will discuss different types of wallpaper.
Since there are so many wallpaper types with various materials to choose from and different applications to consider, we've created a guide for you to understand the different types of wallpaper and the benefits of each.
Different types of wallpaper:
Vinyl wallpaper
Incredibly versatile and durable, vinyl wallpaper is ideal for busy households. Vinyl wallpaper is composed of printed paper coated with layered vinyl or PVC.
The thicker the vinyl coating, the more durable the wallpaper, which can withstand steam and be cleaned with a damp cloth; ideal for use in children's rooms, bathrooms and kitchens.
Vinyl wallcoverings have plenty of benefits, including being flame retardant, cleanable, durable, easy to install and resistant to scratches, stains and steam. As well as its practicality, vinyl wallpapers are available in a spectrum of textures, colours and designs so you can find the perfect pattern to suit your space.
MURIVA Indra Wave Blown Vinyl Wallpaper White Silver
Grasscloth Wallpaper
Grasscloth wallpaper is made from natural plant fibres such as sisal, seagrass, arrowroot, bamboo and jute. The fibres are woven with fine thread in a traditional handloom, making it a more luxurious but more costly option.
Sisal is a common fibre used to make grasscloth wallpaper as it is strong and can take dyes. Jute wallpapers are similar to sisal but with slightly thicker, softer fibres, while seagrass and bamboo wallpapers have a more textured appearance. The fibres are woven and applied to the backing to create a wallpaper covering.
As the natural fibres of grasscloth are relatively delicate, grasscloth wallpapers were generally less hardwearing than vinyl or printed. However, recent advancements in the textile industry mean they are more durable than in previous years.
While grasscloth wallpaper is durable, it should not be used in high-humidity areas like bathrooms or kitchens. Instead, it is best used in high-traffic like hallways or as a feature wall in living rooms.
HOLDEN DECOR Vardo Grasscloth Wallpaper Beige Orange
Flock Wallpaper
Flock wallpaper is designed to look like velvet. They imitate the damask style of wallpaper – a woven silk style once used for royal families. Are you a fan of this opulant design?
Flock is a powder and waste product of the woollen cloth industry. Originally, it was added to an adhesive-coated cloth to imitate a velvet look. However, today flock wallpaper is made using artificial fibres like polyester, nylon or rayon.
Flock wallpapers are ideal for feature walls and feature elaborate designs that add timeless elegance to any space. However, flock wallpaper is difficult to maintain due to its velvet-like texture. It is not washable and difficult to remove, so it is best suited to lower-traffic rooms. But if treated with care it will last for years.
DEBONA Medina Flock Damask Wallpaper
Lining Paper
Lining paper prepares the wall for wallpapering, covering imperfections and creating a smooth surface. Ideal for older houses, lining paper covers small cracks or scuffs so your new wallpaper hangs perfectly.
Using lining wallpaper also reduces the risk of shrinkage. Shrinkage happens when wallpaper is exposed to moisture. The wallpaper expands when wet, and as it dries, it shrinks back. This shrinkage can cause some gaps between the drops. Good lining paper will absorb some of the moisture to prevent shrinkage and create a more professional look.
Aside from preparing the wall, lining paper adds thermal insulation and sound absorption to a wall.
ANAGLYPTA Thick Insulating Lining Wallpaper Plain Cream
Peel and stick wallpaper
Peel-and-stick wallpaper is easy to use and quick to hang. It really is as easy as it sounds, simply peel off the backing and apply it to the wall.
Our selection of peel-and-stick wallpaper is removable and leaves no sticky residue, which is ideal for renters who want to personalise their space temporarily.
Aside from creating a feature wall, peel-and-stick wallpaper can be a great way of modernising a chest of drawers and sprucing up a staircase.
If applied correctly, peel-and-stick wallpaper can last up to five years. For longer-term solutions, it's best to stick to traditional paste-the-paper or paste-the-wall techniques.
WALLPOPS Peel And Stick Birch Tree Nuwallpaper Grey
Wall Murals
Wall murals depict a singular scene, unlike wallpaper which showcases repeating patterns. The artwork is printed onto numbered wallpaper panels with instructions to tell you the order to install them.
Wall murals make a striking visual impact, perfect for creating a feature wall and stepping outside of usual design boundaries. Just make sure that the pattern you choose will fit on the designated wall and that there are no doors and windows in the middle of the mural that will cut out an important part of the pattern.
RETFORD WALLCOVERINGS African Animals Round Wall Mural
Paintable Wallpaper
Paintable wallpaper is raised, adding texture to your wall while allowing you full control over the colour. It is a heavy vinyl paper that can be painted with flat or glossy paint, ideal for creating a feature wall for added depth. The pattern on this paper style repeats, adding a nice touch to any room.
Paintable wallpaper can be purchased in paste-the-wall, paste-the-wallpaper, or peel-and-stick varieties. Leave the wallpaper to dry for at least 36 hours before painting.
AS CREATION 3D Effect Paintable Brick Wallpaper White
Wood/Tile/Brick Effect Wallpaper
Effect wallpaper can imitate the look of wood, tiles and brick. It's an easy and more affordable way to create the illusion of these materials and make decorating easier.
Wood-look wallpaper can mimic panelling, timbered wood, distressed wood and more in natural or painted wood designs. Tile effect wallpaper can imitate the look of subway, metro, mosaic tiles and more in various tiles to make decorating kitchens or bathrooms easier.
HOLDEN DECOR Modern Wood Panel Wallpaper Sage Green
Explore our wallpaper collection at Wallpaper Shop
At Wallpaper Shop, we offer a range of wallpaper types so you can choose the best material to suit your home.
With durable wallpapers to withstand busy areas, find options to fit the bathroom, kitchen and hallways to keep your home looking fresh. Or, choose a more luxurious wallpaper type for quieter areas like the bedroom to create your own haven.
Find a design to suit your style and get your transformation underway with Wallpaper Shop.
Related