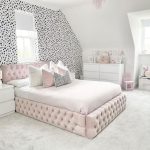 Dalmatian Print Wallpaper
If you haven't seen the trend for Dalmatian print wallpaper, where have you been? This Dalmatian wallpaper started to hit the top trends back in March 2020. There were Instagram influencers who were all screaming out for this design. And it didn't stop at Dalmatian print wallpaper. We saw a surge in Dalmatian nails, stationery, plates, bedding, cushions, and much more. Then the craze started to calm down so we thought this cool mono style was petering off. So imagine our surprise when all the high streets brought out new collections of bright colours along with the Dalmatian spot print. Our sales hit a peak for our Mono Paw Dalmatian Wallpaper here at Wallpapershop.co.uk. During one weekend the orders for this wallpaper was one in every three orders. Our customers then started to share there amazing room shots.
Mono Dalmatian Print Wallpaper
One of our customers @Kristinahullhome posted this stunning photo on Instagram. She had transformed her little girls bedroom into a room that we all dream of. So if you are looking for a teen girls bedroom wallpaper that will be the envy of all here friends then look no further than our Dalmatian Mono Paw Wallpaper in black and white. We adore how Kristina has added a pop of blush pink with the on trend bedframe. And please can we just admire how perfectly aligned are those karate chopped Mrs Hinch styled cushions look.
Pinks & Dalmatian
So yes there are hundreds of colours you can add to our Dalmatian print wallpaper. But for this blog, I will just talk about the pink Pantone. The reason I am focusing on this today is that even though the Dalmatian spot is a bold print. A touch of pink will instantly soften and add a dash of feminine elegance. I love the way Kristina has added touches of pink with the cushions, and the light fitting. And I do not know if you can spot the Dalmatian plat pot of the bedside table and the front Dalmatian cushion. By using our Dalmatian Print Wallpaper on the feature wall and adding a splash of pink and the occasional Dalmatian dot here and there it feels welcoming. And the colours and pattern all blend subtly so it does not feel overwhelming.
I would personally like to say thank you to Kristina for sharing this gorgeous girl's bedroom makeover. So order your Dalmatian Print Wallpaper today via our webshop. The link to our Dalmatian Mono Paw Wallpaper can be found here and throughout this entire blog post. So buy it today and transform your home.
Summary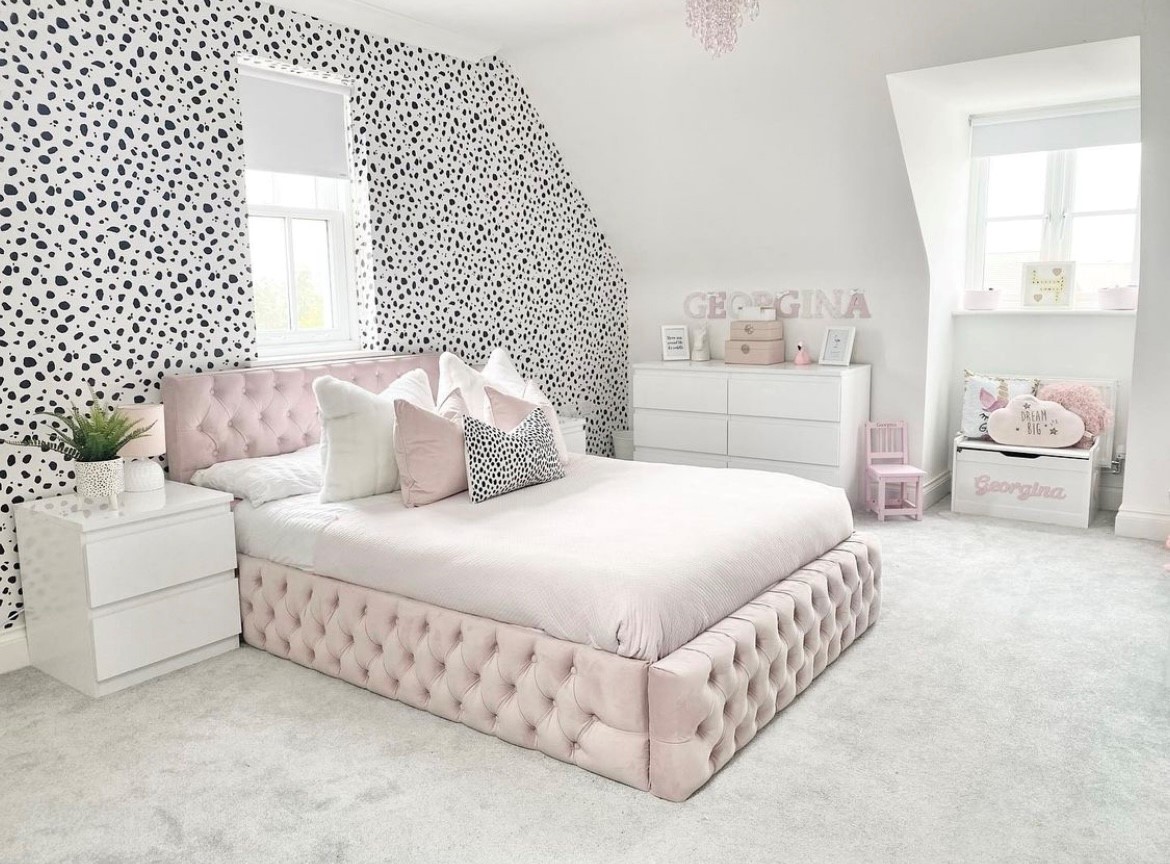 Author Rating
Brand Name
Product Name
Dalmatian Print Mono Paw Wallpaper
Price
Product Availability