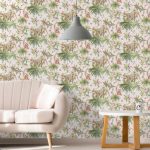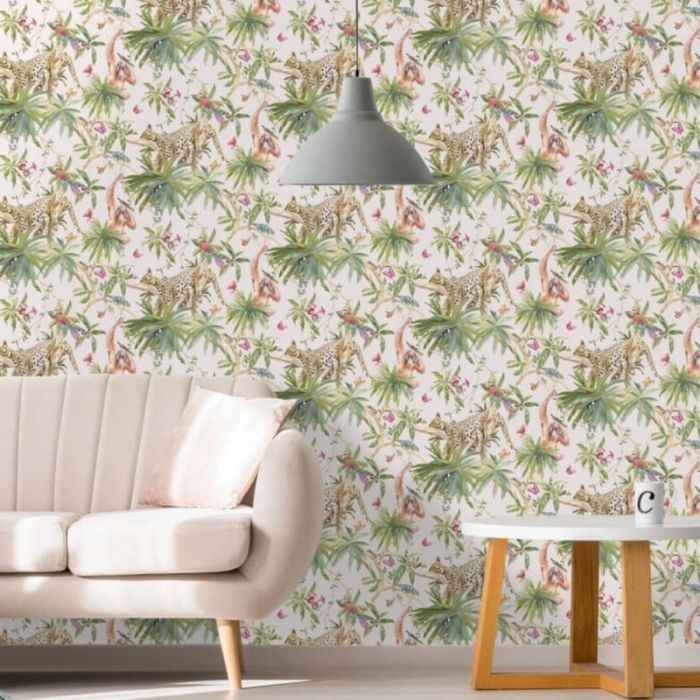 Cute Monkey Wallpaper
/
January 5th, 2021
/
There are currently 0 comments
Cute monkey wallpaper is fun, cool, and so bang on trend. With so many colours to choose from you will spoilt for choice. We have orange monkey wallpaper, blue monkey wallpaper and green monkey wallpaper.
This cute monkey wallpaper even looks good in a babies nursey as we find this cute baby monkey wallpaper creates instant charm to a young ones bedroom. There are some funny monkey wallpapers on the market, even some that we would consider rather risque such as the popular drunken monkey wallpaper. The De Gournay monkey wallpaper is one of the top searched wallpaper. And when you see the exquisite print it is easy to see why.
Cute Monkey Wallpaper – Orange Hue
I was first introduce to monkey wallpaper for walls when the Statement Jungle Animals Wallpaper landed here at Wallpapershop.co.uk. And a customer has decorated her baby girls nursery in the blush pink palette. And somehow got some jungle safari material to match it and it converted my opinion immediately as it looked amazing. Who would have thought that baby monkey wallpaper could look that amazing?
The big seller at the moment has to be the orange monkey wallpaper. And this became the most coveted wallpaper to use on upcycled furniture. As soon as Instagram started to show loads of updated furniture that had been renovated. This wallpaper seemed to feature on every piece. I have to sheepishly admit that when I first saw it in this bright colour orange colourway. I pulled a face but then when I saw how gorgeous it looked when clients had upcycled projects and added this wallpaper to the backs of drinks cabinets, book shelves etc I had a change of heart.
Jungle Safari Monkey Designs
Lets go on safari with this design. I love the instant impact that this wallpaper creates. The fact that is some designs look cheeky and just add a pop of colours if using on just one feature wall. I have seen this funny monkey wallpaper used in restaurants and bars. Straight away you are transported to a tropical location and you relax. Which is the perfect vibes you want to feel when dining out with friends.
This cute monkey wallpaper also adds the glam factor to any downstairs toilet or coat room. Don't shy away from using a large bold prints that have lots of colour. If you use this in a small room it will dramatically make the room look bigger.
Summary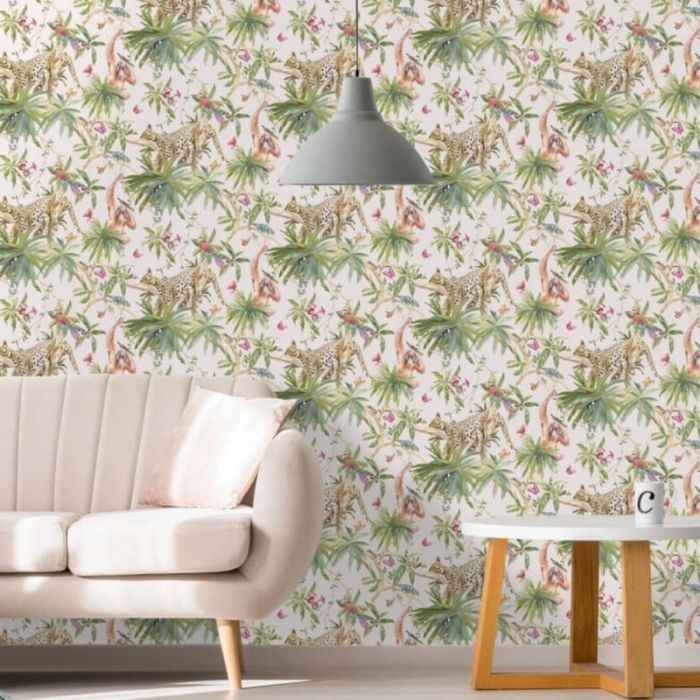 Author Rating
Brand Name
Product Name
Statement Jungle Animals Wallpaper Light Pink
Price
Product Availability