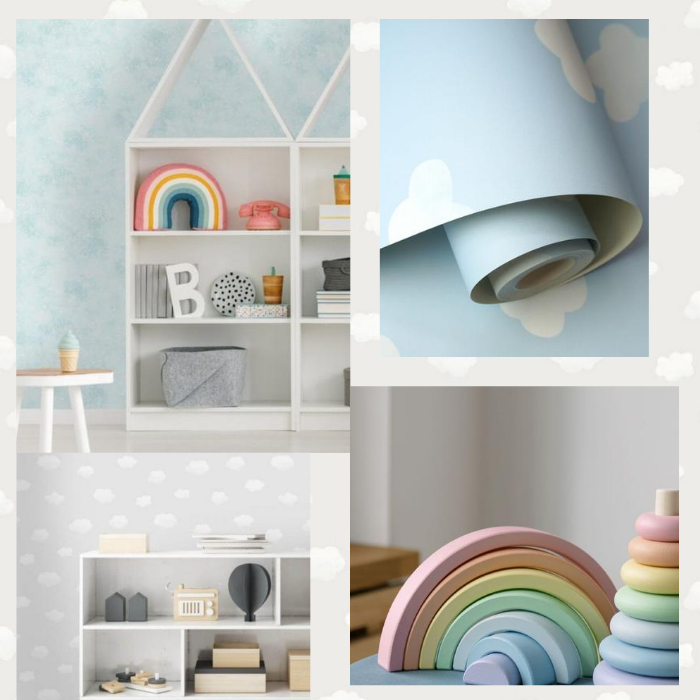 Baby Wallpaper
/
August 3rd, 2020
/
There are currently 0 comments
Choosing baby wallpaper for a baby girl or baby boy can be such a challenge. There are so many beautiful, and pretty patterns out there. So this is a quick tick list, to help you to make that decision.
Firstly have you decided to find out the sex of your baby will you be needing a baby girl wallpaper or baby boy wallpaper. Or have you decided to have a surprise and not know the sex?
Regarding colour which now is not always pink wallpaper for girls and blue wallpaper for boys. Now a days I have seen a mixture of colours used for both girl and boys. Or do you go with the popular grey or cream, which is seen all over Instagram at the moment.
Baby Wallpaper – Nursery
Let us go with the idea that you do not wish to know if you are having a boy or girl and you want to decorate the babies bedrom using baby wallpaper, that will just make you smile. It has been scientifically proved that bright colours in a childrens bedroom stimulate the senses and brain. But on the other hand a block neutral colour provides instant calm and relaxation. This is something that most parents will wish to have an effect on thier infant.
If you are lucky to have a spare childrens play area or room this is where bright wallpaper could be used. And then use soft calming colours baby wallpaper for where the baby sleeps. But again this is a personal choice.
Baby Nursery Clouds Wallpaper
One of our best selling wallpapers for a baby wallpaper for the nursery is the baby nursery clouds wallpaper. We have it in so many colours, pink, blue or grey. And they just look so pretty and you can dress it up with beautiful nursery decor and cot bedding. The fluffy sky wallpaper can be used on all walls or just used as one feature wall. Look at the picture below to see how lovely it really does look.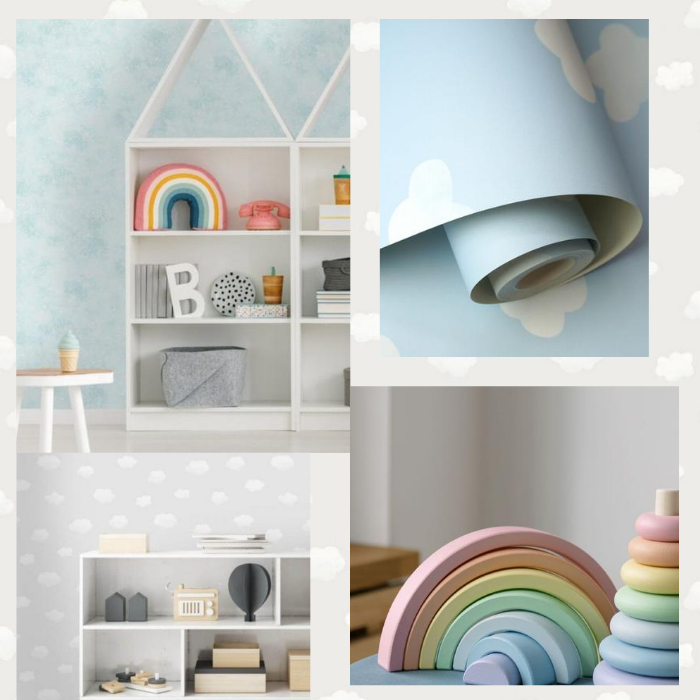 Childrens Sustainable Wallpaper
For a toddlers or childrens bedroom you may want your child to help choose their colours or pattern. We have bright jungle wallpaper or animal wallpaper. We even now have a sustainable wallpaper for childrens bedroom. It is an ecological product – hypo-allergenic and fully recyclable. So if you wish to instill saving the planet at such a tender age then this could be the one for your babies nursery. This wallpaper comes in an array of cheery safari animals. The aniamls include Zebra's, Giraffes's, cheeky Monkey's, Lions and green palm leaves.
Grey Nursey Wallpaper
And the instant choice everyone is going for at the moment is the chic plain grey nursery wallpaper . Why is everyone automatically choosing this colour at the moment? Its because it is safe and so easy to glam up or down and straight away brings harmony to the nursery. The grey stars wallpaper is another trend in nusery decor. Who has seen the amount of hash tags on Intstagram that start with #greydecor #greyhome #greynursery. And you cannot go wrong with a classic striped wallpaper in a babies bedroom.
More Ideas
More ideas for your childs nursery, because gone are the days where boys had blue decor and girls had pink nurseries. From persoanlly experience when I was prenant I decided not to find out if I was having a boy or girl. All my friends and family were horrified as I wanted to find out the old fashioned way what I had on the day of the birth. When it came to decorationg the nursery it was easy for me. I went with what made me happy. I went with a very bright hot air balloon nursery baby wallpaper pattern for a feature wall. Which had an array of bright colours of mint greens, and pinks on a white background. Because it was so bright I decided to just have one feature wall then paint the rest of the room in cream.
We added a neutral grey carpet and a grey nursing chair to bring the look together. With a mixture of soft and wooden toys it all came together. We added a velvet blind in cream (blackout blinds for the babies nursery) and a thick velvet curtain. I cannot recommend enough for using black out curtains for the babies nursery escpecially for the long light Summer months.
Trendy Patterns
So we no longer have ugly or sedated cheesy nursery wallpaper patterns. The vast choice is crazy. And the range of colours is outstanding. The fun and trendy patterns out there suit a range of ages. Varying from baby wallpaper, toddler, little boys & girls to teenager prints. We have pink flamingo wallpaper and unicorn wallpaper for the little lady in your life who loves rainblows and castles in the sky. Or the classic fun roaring dinosaur wallpaper or beep beep car prints for the little adventurer.
Teenagers Bedroom Decor
I love how the decor for teenagers bedrooms has changed. When I was a teen it was stripe wallpaper or what ever was on trend in the shops, way before online shopping. The worst was the sames bedding and curtains to match so it was case of not having much choice. Oh how times have changed and now teens have so much more choice to choose from. They have plain styles right up to graffiti wallpaper. And for a girls teenagers bedroom we have some cute wallpaper designs, with make up and pretty cool patterns. Dress the rest of the room in fairy lights and its a winner for the hip teen in your life.
Childrens Camouflage Wallpaper
The big seller on our website is the kids camouflage wallpaper in green or pink. This sells out as soon as it comes into the warehouse. Teens and younger children love this pattern and the best thing is that it never dates. Who remmbers seeing this camouflage wallpaper in the 70's 80's and 90's it stays in fashion as the decades pass.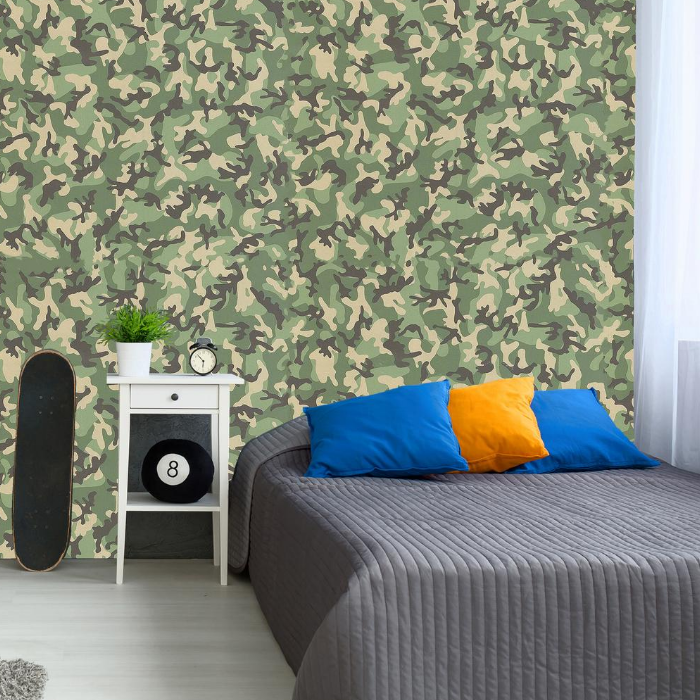 Baby To Teens Wallpaper
So I hope you have enjoyed this blog on how to use baby wallpaper, to toddler decor right up to teenagers bedroom ideas.
It not always easy but the enormous choice parents have compared to decades ago now makes it easier to choose and more fun if you involve them. You will no doubt be filled with horror when you little one wants Paw Patrol wallpaper on it. And then your child wants all the matching bedding and framed pictures. Dont faint and you can compromise by adding plain wallpaper with some framed pictures of their favorite TV show, if the thought of everything Paw Patrol related has you going into to decoration shock.
With your teen why not do some added bonding with them while you choose the bedroom decor together. What a wonderful way to learn more about your teenage son or daughter when it comes to them selecting wallpaper for their bedroom. You will see what styles and colours effect them.
We wish you luck on choosing baby wallpaper and the rest of your littles one room as its grows to a young adult. Remember what ever you decide on this will bring lots of happy memories for your child when they become adults. Even today I only have to look at Snatch The Dog (a design from the 90's which consited of a spotty wallpaper with a rather looking shaggy teddy dog). I look and remember what a happy childhood I had playing in my bedroom.
Summary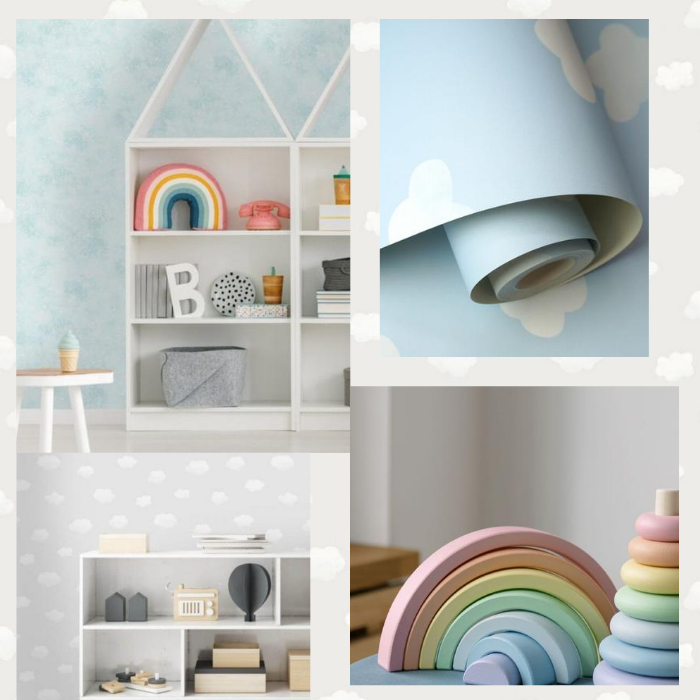 Author Rating
Brand Name
Product Name
Cloudy Sky Wallpaper Blue Grey
Price
Product Availability