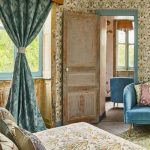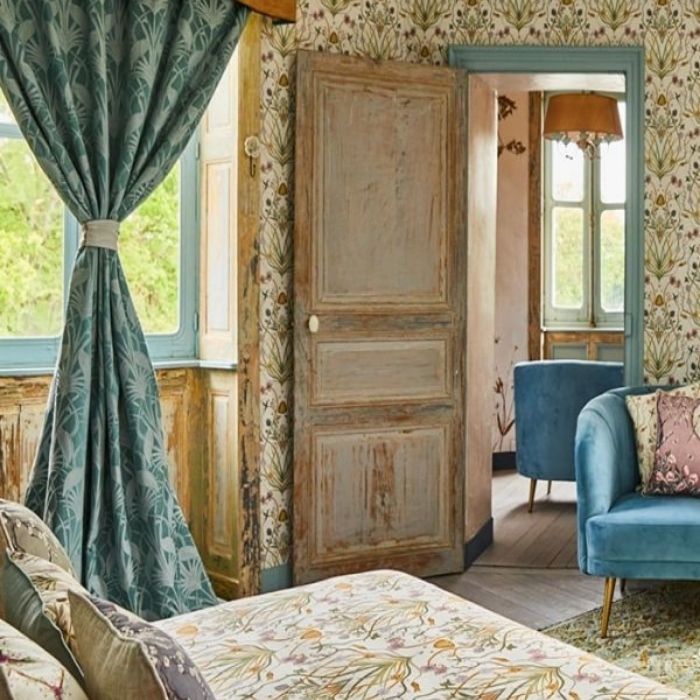 Angel Strawbridge Bedding
/
February 1st, 2021
/
There are currently 0 comments
The Chateau By Angel Strawbridge launched in 2019 and it included Angel Strawbridge bedding, wallpaper and other soft furnishings. Fans of the much loved Channel 4 Escape To The Chateau, can now have a little French chicness added to their own homes.
Angel first started designing these much sought after designs in 2019. After she stumbled upon some old rolls of wallpaper hidden in the old attic. She did not have enough rolls to complete a full wall. So using her imagination she created The Wallpaper Museum pattern. This comes in The Wallpaper Museum Bedding set and wallpaper which can be found on our website by clicking here
Angel Strawbridge Bedding – History Of The Chateau Designs
The Angel Strawbridge bedding along with the Angel Strawbridge wallpaper has gone from strength to strength. Viewers of the TV programme have been drawn in. We all love the entire history of the old Château de la Motte-Husson in Martigné-sur-Mayenne. And captivated by the new chatelains Dick & Angel Strawbridge who have magnificently brought the chateau back to life.
Angel Strawbridge Museum Wallpaper appeared almost immediately after the showed aired. From the old antique dusty rolls of wallpaper. She cut them up into large diamond shapes. Viewers then gasped. As Angel then transformed this into a wallcovering. Angel slowly added diamond by diamond on the walls. Once this was done there were gaps in between the wallpaper. Angel, after some thought added some furniture haberdashery. The entire design, was then created into Angel Strawbridge bedding and wallpaper.
Angel Strawbridge Potagerie
Stepping outside the chateau Angel and Dick decide to restore the old gardens and came upon the walled garden. Here the bee's worked away which became inspiration for the Angel Strawbridge Potagerie Bedding. She designed this vintage pattern using all the natural wildlife around her. This Potagerie design features bumble bees, vegetables, herbs and flowers. The hues and colour palettes all seem to blend naturally and compliment each other causing a beautiful unison.
The Angel Strawbridge bedding sets that fly off the shelf happen to be these top two designs. And I can see we as they instantly inspire customers. Its easy to say that we mostly all want to live the dream of escaping to a chateau in France. But sadly in reality that will always just be a dream. Angel Strawbridge bedding allows us folk that cannot buy a chateau can at least escape to the chateau with these creative designs.
Summary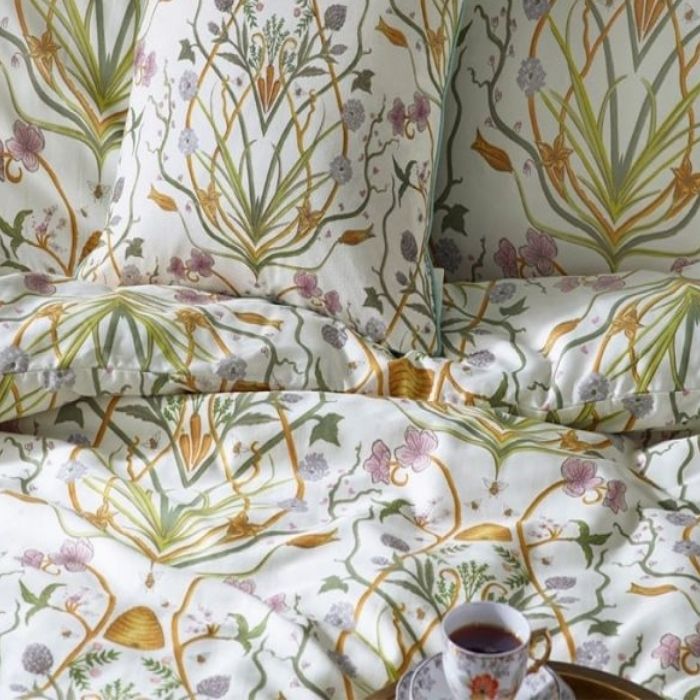 Author Rating
Brand Name
Product Name
POTAGERIE CREAM BEDDING DUVET SET
Price
Product Availability