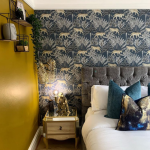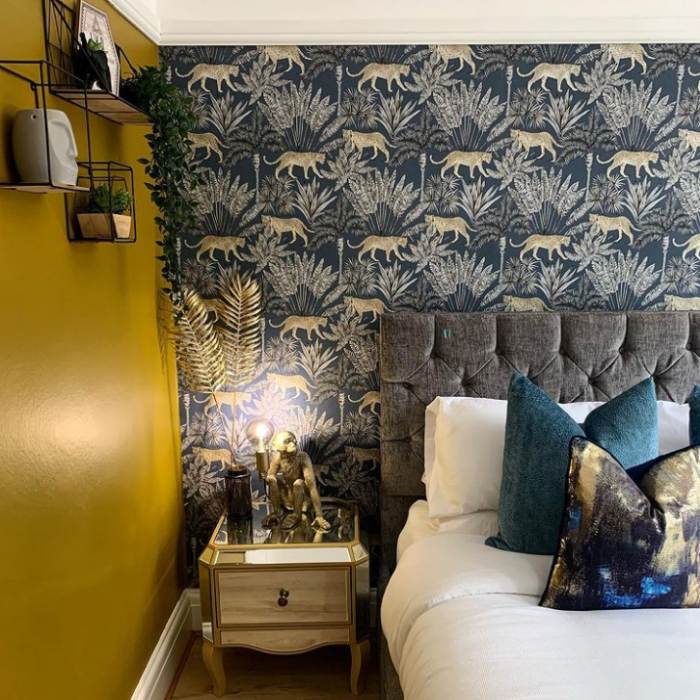 Leopard Wallpaper Magazine
/
February 16th, 2022
/
There are currently 0 comments
So we appeared in Your Home Magazine this month (Feb 2022). The wallpaper was our Jungle Fever Tropics Wallpaper In Navy which is a beautiful Leopard Wallpaper. Firstly we would love to thank Jessica Campbell Whose Instagram handle is @the_place_with_the_palm_trees. Without Jessica's style and flair with interiors, this wallpaper would have just blended in with all the animal print wallpapers out there on the market.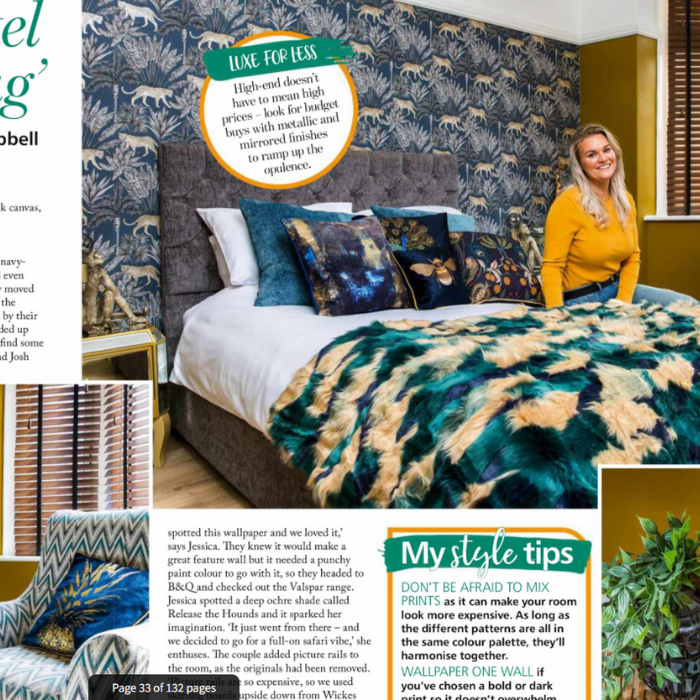 Jessica was not afraid to mix prints and colours and conjure up a magical haven to relax in. So in Jessica's own words, "by mixing up prints it can make your room look expensive. As long as the different patterns are all in the same palette they'll all harmonize together."
Leopard Print Wallpaper Navy
Jessica chose This stunning wallpaper to create a feature wall. Jessica choose a bold dark print just for one wall. She felt by doing this that it wouldn't overwhelm. But by picking out the colours from the wallpaper and incorporate these into accessories to carry the look through.
She also states that if you want to achieve an luxury hotel look ( which we all do want to create) its about paying attention to the finishing touches throughout. Think sumptuous velvet cushions, faux fur throws, and exotic themed accessories.
They both (Jessica & her partner) spotted this Leopard Print Wallpaper and both loved it. But quickly realised they needed a punchy paint colour to go with it. They went to B&Q and looked at the Valspar paint range and saw a deep ochre shade called Release The Hounds. This colour sparked her imagination. And she then decided to carry this through and go full on with a safari themed room. They added picture rails back into the room as they had been removed.
Your Home Magazine Real Rooms
As the magazine article goes on to say that Jessica paired this Leopard Wallpaper with some glamourous items. Such items were a mirrored side table & a statement chair.
Overall this rooms looks amazing and anyone who stays in this will be one lucky guest. Thank you again Jessica for showing us some amazing ideas on how to create a stunning room using our Leopard Wallpaper.
Summary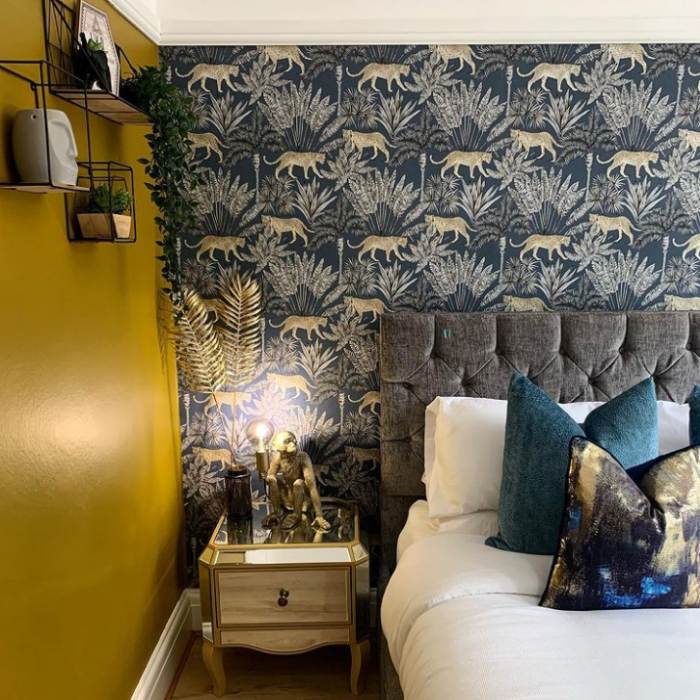 Author Rating
Brand Name
Product Name
Jungle Fever Tropics Wallpaper Navy
Price
Product Availability