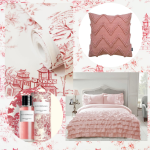 Toile De Jouy Wallpaper
/
July 21st, 2021
/
There are currently 0 comments
Put your hands up if you love toile de jouy wallpaper ? There was a time when Laura Ashley brought out a toile de jouy wallpaper many years ago. It was the best seller when I worked at the King Street branch as an interior stylist. It was a soft purple colour and it would just fly off the shelf as soon as it came into stock. They then added cushions, bedding, fabric etc to the collection and there was even a waiting list some months.
So what makes toile de jouy wallpaper so popular? This is a dated design that has been round ever since I can remember. And trust me that is a long time. I will go into the Laura Ashley toile de jouy design much later as they did reinvigorate this classic pattern.
History Of Toile De Jouy Wallpaper
Lets us look back to when toile de jouy first appeared. Well I went and researched this on Google. And I was fascinated at what Masterclass had to say on this interesting subject.
They said
"Printed toile fabric was originally produced in Ireland in the eighteenth century. The printed textile quickly became popular across France, when the German-born Christophe-Philipe Oberkampf opened a factory in Jouy-en-Josas in 1760. Oberkampf's factory was one of the first major producers of toile. Even though the printed fabric was originally Irish. The textile became known as toile de Jouy or toile for short, eventually spreading across the rest of Europe.
Oberkampf worked with the prolific designer Jean-Baptiste Huet, who is responsible for several of the historical patterns of the cloth. Those initial designs were single-color prints on a white background. Featuring pastoral scenes, vignettes with people from the French country, and references to European mythology. The subject matter has changed over time. But Huet's classic, provincial aesthetic and simple, single-color design remains the standard for toile today."
French Pastoral Scenes
The scenes that proved the most coveted were the ones mentioned above. It was the pastoral French or English countryside scenes. Close your eyes and think of wandering woodland animals, fluttering birds, and the odd farm ladies and fisherman are also seen amongst the trees, lakes, and river. The imagery is wonderfully dateless, relaxing, and inviting. I can imagine Marie Antoinette being impressed with these designs. She was alive when this was first produced. And if you have ever been her grand Palace Of Versailles just outside the Paris capital you will see bedrooms draped with golden toile de jouy. Marie Antionette was the trend setter for the 1700's. She loved the countryside so much she had made on the grounds of Versailles her own petit palace. This was aptly named Petit Trianon.
Petit Trianon
This small private palace had its own exclusive private room in which she would sit and sleep. The duck egg colour which I remember clearly was soft, fresh and calming. This room was also unique as it had sliding panels and mirrors. Marie Antoinette would relax in this room and move the panels and mirrors so she could look out but no one could see her. Around her small palace a pastoral farm and village was created. This was so the Queen or Dauphine could experience a normal life outside the strict confines of her role or the main palace. The Hameau de la Reine (French pronunciation: ​[amo də la ʁɛn], The Queen's Hamlet) is a rustic retreat in the park of the Château de Versailles built for Marie Antoinette in 1783 near the Petit Trianon in Yvelines, France. … A working farm was close to the idyllic, fantasy-like setting of the Queen's Hamlet.
The Queen and her guests would dress in countryside attire of plain cloth and pretended to live in this small working village. This gave her much freedom and joy. She would entertain most profusely throughout her reign and if she was entertaining at Petit Trianon you could not enter without a invite or key. Even the King Of France could not enter it is told by historians.
So when I see any Toile De Jouy wallpaper, I feel transported to France.
Dior Toile De Jouy
So in keeping with the French theme the fashion house Dior brought out a new collection and branded it using pretty toile de jouy in the most beautiful stunning colours. Have you seen this? Recently they launched a branding party to introduce the new collection in London. And everything from tablecloths, napkins, and drapes featured toile de jouy. Influencers such as Amelia Liana went crazy over this launch party. I could not help but be slightly jealous, I mean who wouldn't. I mean if Marie Antionette was alive today I am sure Dior would no doubt receive a royal approval with the style and packaging surrounding this campaign.
Dior have included toile de jouy in all their new products and not only do fashionistas want this pattern on clothes, bags etc. But followers now want this vintage pastoral pattern in their homes. Think curtains, bedding, wallpaper and even tablescapes décor. And be sure to check out the toile de jouy book tote bag which features preying tigers.
Wallpaper Toile De Jouy
So lets get back to what Wallpaper Shop do best and that is how we can help you add toile de jouy wallpaper and cushions to your home. You can create your own shabby chic style home. I have noticed that no matter how you introduce this historic deign it ties the room's style together without being overly matchy. It continues the colour scheme and country house style.
So lets look on our website at our own toile de jouy wallpaper collection. We do have different colours and patterns. Some designs range from hot tropical island scenes to the more traditional countryside scenes that we are all familiar with. We even have some toile de jouy wallpaper that looks like it has been etched on to wooden planks. So this wallpaper is perfect for those wanting to add a more rustic feel to their abode.
Toile De Jouy Laura Ashley
So back in the early 1990's Laura Ashley launched their own toile de jouy collection. and as at the beginning of this blog I spoke about it being incredibly popular. I think this really brought this classic pattern to the forefront of interiors at that time. Other brands and stylists jumped on the band wagon and started to produce their own versions. But the Laura Ashley toile de jouy which came in a soft muted lavender colour which was unique. Most toile de jouy designs back then came on a pale cream or white backdrop. The Laura Ashley toile de jouy was different as it was much thicker and textured and the backdrop was a deep lilac. The toile de jouy print then was a softer lilac colour which just looked sublime.
Once Laura Ashley and Dior used this country chic pattern everyone just swooned. Mix this pattern with organic linens, frill tablecloths and a vase of fresh blooms and you will unite the whole shabby and vintage interiors.
So lets work through the toile de jouy wallpapers we think may be of interest to you.
Blue Toile De Jouy Wallpaper
Delft blue first made an appearance in the small Dutch city. This colour became famous between 1600 and 1800. And this colour when used as a toile de jouy is the most pinned combination on social media. We have in our collection the Toile De Jouy Panel Wallpaper Blue. This blue toile de jouy wallpaper features farming scenes of farmers gather the hay in. The pattern in placed upon soft blue hue coloured wood effect panels. There is also some dancing and farm maids sitting together and a shepherd resting under the shade of a tree.
Toile De Jouy Wallpaper Grey
Our Oriental Garden Toile De Jouy Black Cream is more of a Asian print of far lands. This grey toile de jouy wallpaper features a Japanese pergola. The weave of florals and branches throughout have and old English chinoises feel to it. When using a grey toile de jouy wallpaper, you can venture out and add black accessories. Imagine this wallpaper in as the canvas behind a luxurious black velvet headboard. We did a blog post on black wallpaper if you love this moody dark colour.
Tropical Toile Wallpaper
So if you do not like the classic toile de jouy wallpaper, your in for a right treat. We also stock some tropical toile wallpaper. The one that springs to mind is our Savannah Safari Jungle Wallpaper Orange. This stunning wallpaper pattern features a mural safari theme of gazelles, giraffe, and flamingo's grazing. It automatically transports you to a hot land where nature is at home. What I love about toile de jouy wallpaper is that the scenery captures you and your imagination.
Our Manyara Mural Tropical Animal Flamingo Wallpaper is also a tropical toile de jouy wallpaper. This wallpaper comes in three stylish and on-trend colours of Pink, Teal or Green (Multicoloured)
So in a nutshell you either love or loathe this toile de jouy wallpaper the good news is its here to stay. Please do share with us if you have used this pattern in your home.
Summary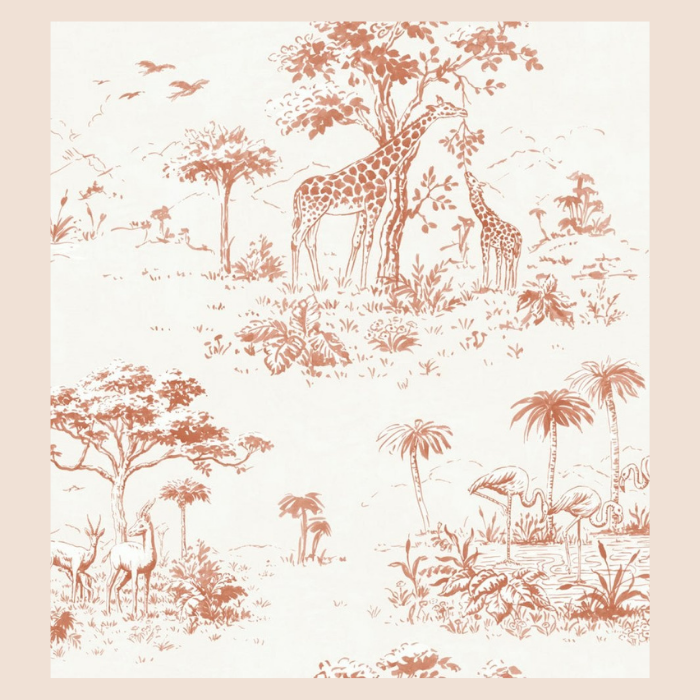 Author Rating
Brand Name
Savannah Safari Jungle Wallpaper Orange
Product Name
Manyara Mural Tropical Animal Flamingo Wallpaper Multicoloured
Price
Product Availability