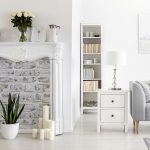 Self Adhesive Wallpaper
/
February 23rd, 2021
/
There are currently 0 comments
Our self adhesive wallpaper requires no paste. Its unbelievably easy to apply. Its just a case of peel stick and go. This sticky back wallpaper comes in a full array of patterns. Our range includes brick, wood, marble, floral and much more. So before I go into detail regarding this amazing self adhesive wallpaper and the designs we have in stock. I will share with you why this easy peel and stick wallpaper is a firm favorite with all you DIYers.
Self adhesive wallpaper is perfect if you want to upcycle furniture including transforming cupboard doors. But this peel and stick wallpaper comes in lengths of 6 meters so you do get much more than a normal sticky back vinyl which are normally only a mere 2 meters in length.
Artistick Peel And Stick Wallpaper
As soon as this self adhesive wallpaper landed here at Wallpapershop.co.uk we all gave it a round of applause. The reason being as most novice decorators struggle putting up wallpaper without the aid of a decorating expert. But gone are the days of this feeling. The instant dread of having to book a wallpaper decorator are now gone. Artistick from Arthouse have invented a wallpaper that does not need any paste.
The application of this self adhesive wallpaper is simple. All you need to do is some basic prep work to ensure it attaches to your wall. A few tools and tricks of the trade will also come in handy to help you achieve the smoothest finish possible. Just take note and follow the step-by-step instructions on how to apply peel-and-stick wallpaper to achieve bubble-free, long-lasting results.
Peel and stick wallpaper bonds to a a smooth surface. So anything that is lumpy and bumpy you will have issues and may have to stick with traditional paste the paper or paste the wall wallpaper.
All you will need is the following tools for a smooth and professional finish.
Sponge or cloth
Mild cleaner
Measuring tape
Straightedge
Pencil
Peel-and-stick wallpaper
Plastic smoothing tool
Utility knife
Sticky Back Wallpaper
Peel and stick wallpaper UK is a massive industry as customers do not want to endlessly wait to get a booking slot with a decorator. Nor do they want the mess caused by the soppy wallpaper paper paste that can happen if you have never done the job yourself before. Trust me the thought of putting my own paste the wall wallpaper up fills me with dread. Whereas this wonderful and easy self adhesive wallpaper has me thinking that I may be able to do this for myself.
So lets look at the styles of self adhesive wallpapers we stock here at www.wallpapershop.co.uk. So lets start with the self adhesive brick wallpaper which is our Artistick Self Adhesive Brick Wallpaper White. This gorgeous peel and stick wallpaper features a rustic urban white washed brick wall. This is wonderful if you want to create a feature wall and you do not want to use wallpaper paste. But the brick effect just looks so modern and also traditional. We love how this sticky back brick wall wallpaper is so versatile. We also have this brick style in the sell out navy brick and gold self adhesive wallpaper from Artistick. Another design that looks just as effective is the wood effect self adhesive wallpaper. Again this is such an on trend pattern that will look fitting in any home modern or country styled.
Floral Self Adhesive Wallpaper
We have the flowery self adhesive vinyl wallpaper called Pindorama. This flower wallpaper is a stunning navy blue pattern filled with cascading Orchids and large palm leaves. We have seen this used on cupboards or drawer fronts as well as a feature wall and it just binds the whole look of the room together. So try adding any left over paper to your room. Maybe line the back of a bookcase or an old fire place that just has a light or candle in. Start to think creatively when you use this. Even if you have got only a little bit left, cover the top of a side table or some small stacked boxes.
The self adhesive palm leaves wallpaper in green just looks fresh, light and airy. This has to be my top favorite. Maybe because I instantly think of hot sandy beaches or being on a sunny holiday. Because its so easy to apply you will be wanting to apply this everywhere. This pattern would look amazing in a small downstairs toilet. And because its so easy to cut and hang and is quite easily a project that can be completed in a weekend.
Pro's Of Self Adhesive Wallpaper
So lets weigh up all the pro's for using this wallpaper. Firstly the main one being is that it can be used by anyone regardless of decorating experience or back ground. It is very easy to hang but just be sure you have the correct tools to hang this self adhesive wallpaper. Another great pro is that you do not have to wait endlessly for a diary slot from your local decorator. I only speak from experience, it has been known that the decorator can have you waiting a few months. I am so impatient so when I buy something like wallpaper I just want the renovating done asap. And when I see the before and after reels of rooms decorated on Instagram I just want to make a room transformation myself. So this wallpaper ticks all those boxes.
Summary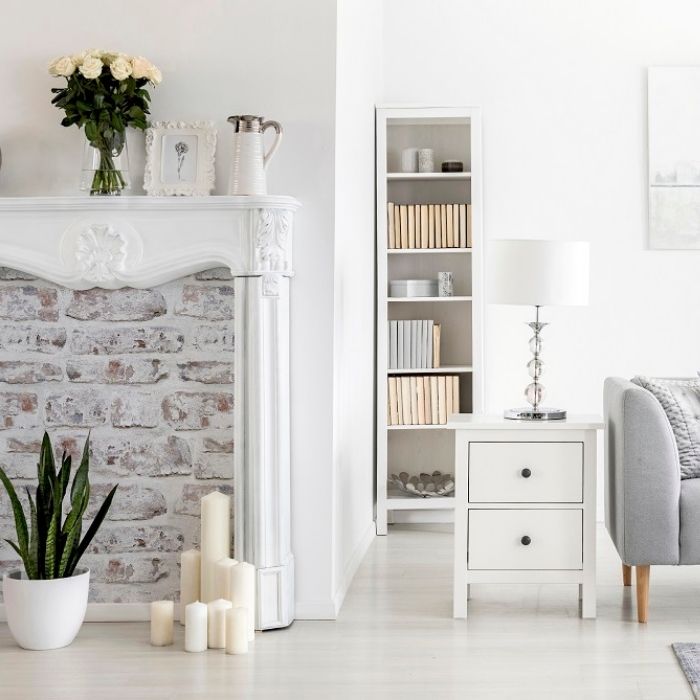 Author Rating
Brand Name
Product Name
Artistick Self Adhesive Brick Wallpaper White
Price
Product Availability