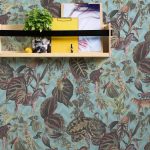 Mushroom Wallpaper
/
February 22nd, 2022
/
There are currently 0 comments
At the start of last Autumn we noticed the trend of mushroom inspired wallpapers becoming popular. I have been receiving updates from Etsy and the reading monthly style newsletter. I have noticed that mushroom wallpaper kept ranking as the most sought after style for the home. When I state the word mushroom I need you to think toadstool, pixie houses and crisp Autumn colours.
Once I saw that this was the new go to trend I started looking on our website for some toadstool wallpaper or fungi wallpaper. And I came across this wallpaper here. Its called Metropolis Mushroom Monkey Wallpaper. This wallpaper is incredibly exotic looking and has a magical vibe to it.
Toadstool Inspired Wallpapers
When we cast our imagination to capture the essence of this style what is your thoughts? My own personal feelings are captivated by crisp golden leaves, and the woodlands close to my home which I venture to in all seasons. Toadstools and mushrooms also have a magical connotation to them. I remember as a young girl I would often see toadstools in story books filled with fairy and pixie land. Enid Blyton often mentioned toadstool homes for many of her woodland characters. So it no wonder that this this mushroom wallpaper style transports us to a magical kingdom in our minds.
Mushroom Monkey Wallpaper
Our Metropolis Mushroom Monkey Wallpaper comes in four delightful colours. Those colours are green, light blue, black or white. I would be delighted if you would let me know your favourite colour palette. Mine is the off white because I do love a neutral backdrop in which the colours then are allowed to pop out of this pattern.
So the toadstool does make an appearance in this design. But added to this this wallpaper we have cool zebra and perched on top is a cute spring bunny rabbit. We have a cheetah growling with a cheeky monkey hitching a ride. Amongst all the mushrooms and animals is a layer of deep green leaves which gives a depth of botanical charm.
Autumn Inspired Mushroom Wallpaper
This wallpaper by AS Creation is definitely one of our most Autumn inspired wallpapers in which screams maximalism ardor. This is due to the geometric zig zag patterns as a back drop.
So as the temperatures dips, its important to create a warm space in your home. By doing this your will create a restorative haven to relax in and nest away for the Winter. This mushroom wallpaper will make you feel cosy and has a magical ambience to it. During the colder months nothing is more inviting than bringing the outdoors inside where it much warmer.
Add A Little Luxury
Our mushroom wallpaper will give a woodland retreat but if you are wondering how to glamourize your room so it does not look like a cold forest. Be sure to dress your bedroom with sublime silk bedding, cashmere throws and gorgeous faux-fur cushions to make your chosen room even more magical.