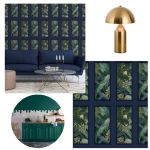 Moneypenny Interiors
/
November 22nd, 2021
/
There are currently 0 comments
Paul Moneypenny not only hit our screens by appearing on the popular TV show Interior Design Masters with Alan Carr. But he has now brought out his own stunning collection of Paul Moneypenny Interiors wallpapers from Arthouse. This latest collaboration is a dream come true for all budding interior stylists who love Paul's maximalist vibes.
So in this blog let us discuss Paul's striking new range of wallpapers. But first let us discuss how Paul was first discovered and what makes him so unique.
Paul Moneypenny Interiors
I read the most down to earth interview via Belfast Live and I instantly fell in love with Paul's honesty. I love the part in the interview when he thought he had a full week to prepare his portfolio and then submit it to the BBC. And then it only dawned on him that it had to be submitted that day. So he just sent what he had with no full preparation. But that goes to show that he is just naturally gifted.
Paul knows his interiors and is not shy to stand to stand out in a crowd. His designs can be seen as bold, brash, and unapologetic. He does not care to be in keeping with what is in fashion. He makes his own statement when it comes to interiors and it works because it is original and fresh.
Paul Moneypenny Wallpaper
I am unable to choose a favorite from Paul's Moneypenny interiors collection. So I will start with The Crown Jewels design. This reminds me of the traditionally handprinted designs that are synonymous with the old world India where they hand block patterns on to paper or fabrics. Paul has added a stripe which adds a touch of classical charm.
Moneypenny Wild Vibes Panel Wallpaper
The craze of wood panel wallpaper is still going strong. And Paul Moneypenny Interiors has brought out his own dynamic version. The Wild Vibes Panel wallpaper and the Stately Bouquet Panel are a hit with fans. Because this trend has been around now for a couple of years, Paul has injected some drama into his version. Instead of the usual plain wood paneling, Paul has added some show stopping designs. Personally I love the dark navy paneling with a deep moody palm leaf design in the middle. If your looking for something with a extra splash of colour then the stately bouquet will surely create an impact you may desire.
Maximalist Wallpapers
The bigger and brighter the colour or pattern the better when it comes to a Moneypenny inspired room. Who would think to put wide black and white stripes on the ceiling and co ordinate with bright neon green paint. And then to finish it off a busy large floral print for the walls. If the look was described in a conversation you would arouse concern. But when you put this altogether on paper or in a room it just works.
Moneypenny interiors screams "Look At Me" which is perfect if you want your walls to look alive and full of life. The mixture of hues and pantones just blend sublimely in amongst creative flowers and fauna. Hence I feel he is the leading principle when it comes to maximalist style for the home.
Moneypenny Interiors Collections
Upon further reading the Belfast Live Blog I had not realized that Paul Moneypenny had also created the upside down Christmas Tree. I first saw this idea gracing the hall of the much celebrated London hotel Claridge's during Christmas 2017. At first I thought it looked crazy but then once I got my head around it being upside down I grew to love the ingenuity and concept behind this traditional piece.
Paul Moneypenny first turned heads across the city with his upside down Christmas trees back in 2019 and he never looked back. In his own words "I adore being able to transform a space through colour, texture, furniture and furnishings – that overall transformation just gets me really excited. It's often this metamorphosis and seeing the before and after of a scheme coming together which gives me a massive sense of satisfaction. I love being able to make a space look aesthetically beautiful, but actually I find it's more important to change how a space feels," he explained. So be sure to look up Paul's new collection here at Wallpapershop.co.uk. I can guarantee you are in for a treat with his latest Moneypenny Interiors.