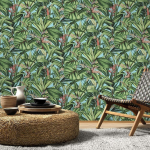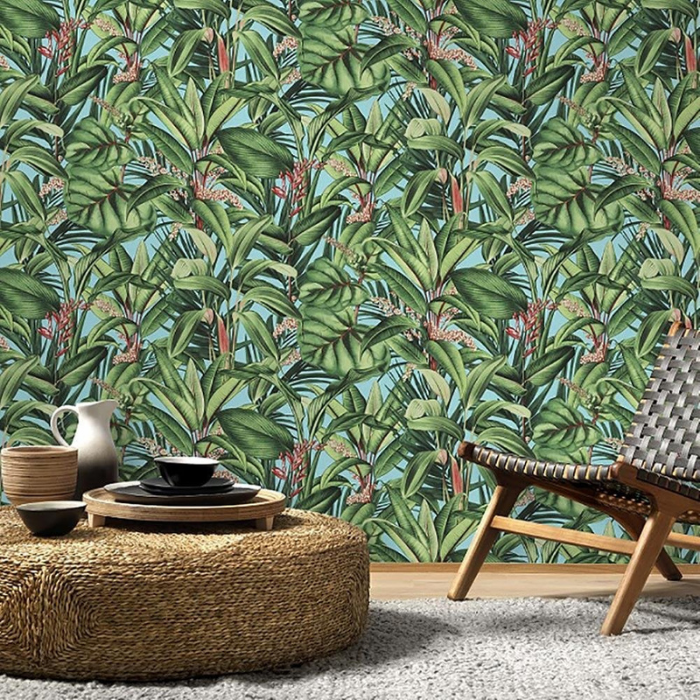 Jungle Theme Wallpaper
/
November 17th, 2020
/
There are currently 0 comments
Escape to the hot tropics this season with our Jungle theme wallpaper. Even if the weather outside is cold and damp. A jungle print wallpaper will automatically make your day seem sunnier and brighter. Our vast collection of jungle wall murals will leave a lasting imprint to your interiors.
So what makes this design so on trend? With the fantastic array of colour and varied designs there is a pattern or style suitable for everyone's taste. The tropical styled wallcovering traditionally displays colourful palm leaves and safari animals. And not forgetting tropical rainforest wallpaper designs, which ooze warmer climates.
Safari Animal Wallpaper – Jungle Theme Wallpaper
With our collection of safari animal wallpaper you can escape into the hot wilderness of the African wild plains. This jungle animal wallpaper is certainly a popular pattern. And why should it not be. Who doesn't spend the occasional daydream of going on a trip of a lifetime to where the animals bask in the sun and graze on the open landscapes.
Large mural wallpaper prints actually looks good in a small room. It amazing how a large colourful print can make a very small complex room look larger. I have seen oversized jungle wallpaper murals used in small downstairs toilets or coat rooms and it looks dramatic and bigger. So do not be afraid to use large print tropical rainforest wallpaper in small spaces. You may actually surprise yourself of how gorgeous it looks.
Who wouldn't love a vibrant wallpaper with leopards, giraffes, zebra, and other safari animals walking across the walls. Or why not choose one that is covered in bright tropical hot house blooms and flowers. One of the most favorites at the moment is the hummingbird, bird of paradise and lets not forget the parrot. Each of these styles is fitting if you are wishing to achieve escapism into your decorations.
Palm Jungle Wallpaper
Succulent palm jungle wallpaper patterns can be a treasure trove of choices to behold. Creating an instant wow factor to your walls. The most coveted is the palms which is bright and vibrant. And lets not mention that it is all over Instagram. I only have to hashtag jungle wallpaper and a whole host of decadent palm print litter my social media feed. The Arthouse tropical palm wallpaper and the Versace palm wallpaper along with the Solstice palm wallpaper are the most stunning green jungle wallpaper themes we stock.
Over the past 18 months I have been in numerous pubs, bars, restaurants and beauty salons. And needless to say this jungle scene wallpaper of palm and palm trees feature in I would say 1 out 3 places I have visited. Its is easy to see why though. As soon as you open the door you are greeted by overwhelming colours that instantly uplift the soul. And miraculously you feel upbeat and automatically feel on holiday. so never underestimate the impact a wallpaper can have.
Kids Jungle Wallpaper
Lets not leave out our kids jungle wallpaper. Our collection of childrens nursery wallpaper even features an eco friendly wallpaper. I love the fact that most of these designs are non gender nursery wallcoverings . Perfect nursery jungle wallpaper designs include our already discussed Eco Friendly Kids Wallpaper by Grandeco. And let us not forget the fun Hidden Jungle Kids Wallpaper by Arthouse. These two patterns remind me of the much loved children's story. These two designs are very much The Jungle Book wallpaper. But with a more modern appeal to them and they just look fun.
If decorating a childrens/kids bedroom with this style you may add co ordinated plain bedding, cushions and drawings. I have seen some cute designs where the parents have professionally framed their childrens hand drawn pictures and this looks amazing.
Jungle Wallpaper Nursery
So decorate your little ones nursery in something bright and welcoming. Research has shown the more bright a baby's nursery room is the more attentive the baby is within development. Our jungle wallpaper nursery collection will entertain your baby endlessly. With bright vibrant colours, and fun styles.
I personally love a brightly coloured nursery whatever the pattern. I always thought that I would have a plain colour for my baby boys nursery but I ended up going with the brightest light filled wallpaper. Even my family and friends were shocked as I would normally go for sedated palettes of greys or beiges with added soft pastel baby blue. However I chose bright dashing pantones which actually make me smile. A bright jungle scene wallpaper is perfect if you want an eye-catching and bold baby safari wallpaper.
Colors affect the , mind and emotions with the energy produced by light. Scientific studies conducted demonstrated that the benefit of colors on the the development of the brain, creativity, productivity and learning are concerned. The effects, responses and emotions of colour on human beings can be varied; causing excitement, lending calm, giving inspiration, raising anxiety or tension or giving peace are some of these effects. These effects can be observed more distinctly in children. Children can be more sensitive to colors. It has also been proved that little ones can decide early on what their favorite colours are.
Black And White Jungle Styles
By going for a bold print in a subdued neutral colour you automatically bring in a sense of calmness and tranquility which is excellent way to use this style if you do not want to add lots and lots of bold daring palettes. Choose again a large print to make your room look grander or larger. I have seen lots of black and white jungle styled living rooms where the stylist keeps everything minimum using the mono black and white tones and then adds one big sumptuous velvet sofa.
If you dubious of using bold daring colours then a black and white wallpaper may be the one for you. A simple classic mono palm wallpaper of structured palm trees still brings the feel of hot destinations to your abode. its just minus the colour factor. You can then add a pop of colour with your soft furnishings. This jungle glam wallpaper speaks volumes and will look fabulous as a feature wall or on all walls if you so choose.
Summary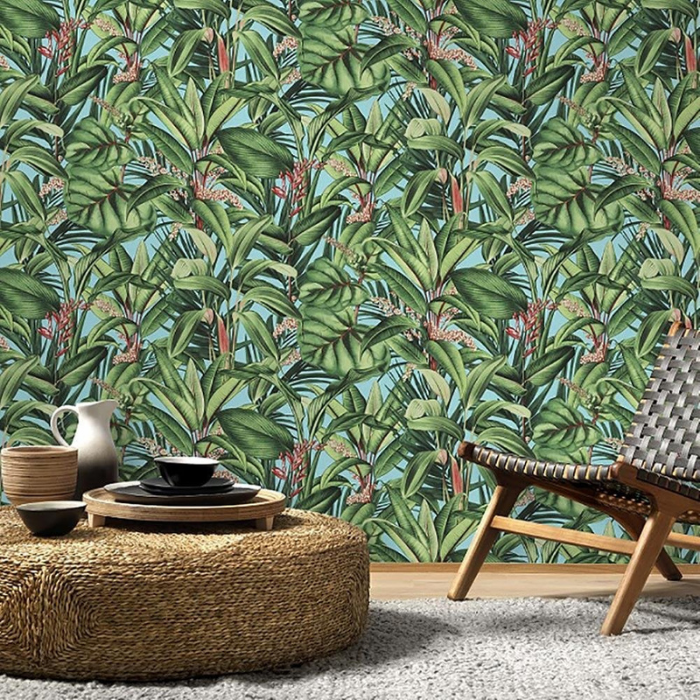 Author Rating
Brand Name
Product Name
Mustique Jungle Palm Wallpaper Blue
Price
Product Availability