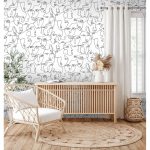 Boho Wallpaper
/
June 30th, 2021
/
There are currently 0 comments
Lets discus Boho wallpaper in today's blog post here at Wallpapershop.co.uk. So what is boho? It is a word that has been commonly used when describing a hippie style in the 1980's. So lets fast forward to 2021 where the new modern boho interior styles have changed. They have transitioned from the tie dye colours of yesteryear to a more softer nudes and pastels. The modern boho style is more calming and minimalist.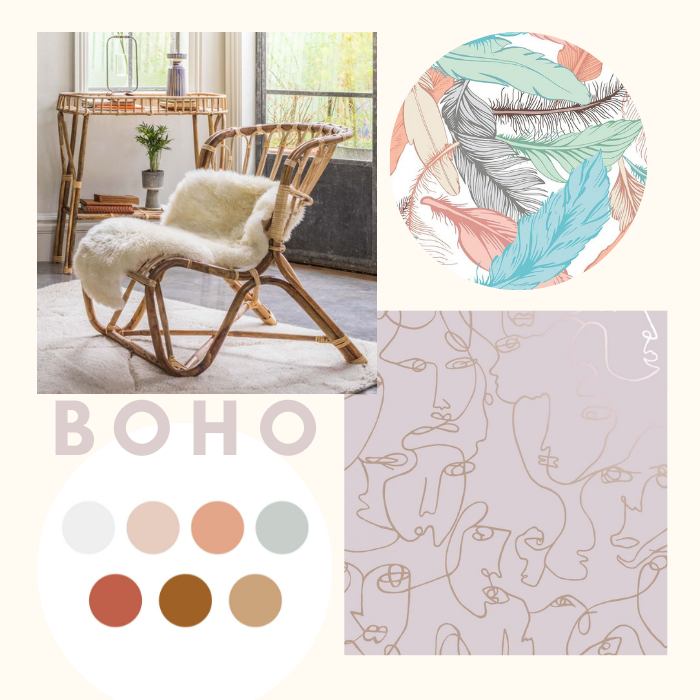 Bohemian Wallpaper
So what boho wallpaper is currently on trend? Think boho rainbow wallpaper, abstract art wallpaper, boho chic cushions and Macrame wall hangings.
The boho interior design trend has been around longer than you can imagine. And it doesn't seem to be going out of fashion soon. The boho look was originally came from the inspiration from artists, writers and nomads. After careful research we find that this style of design came in around the 19th Century in grand France Paris. It was thought that creativity was more valuable than material assets. Created from a set of inspirational artists and souls they introduced an open-minded way of thinking. This style of living embraced the unique, the different and the eclectic. And secreted a more relaxed and unplush way of living and making do with the natural fabrics from nature.
Boho Vibes
Rigidness harsh and stern living quarters were then replaced easily by layers of natural textures, colours and softer patterns. The overall impression then was always relaxed and causal often looking like it was just thrown together carefree. This is the small beginnings of where 'boho' chic first came from, but you don't have to be one of the original artistic bohemians to appreciate this style that still going strong. Boho has a pulling draw like power like no other trend and each year it develops into something that still looks new, fresh and inviting. Interiors stylists will still want to enrapture this style but put their own finger print on it.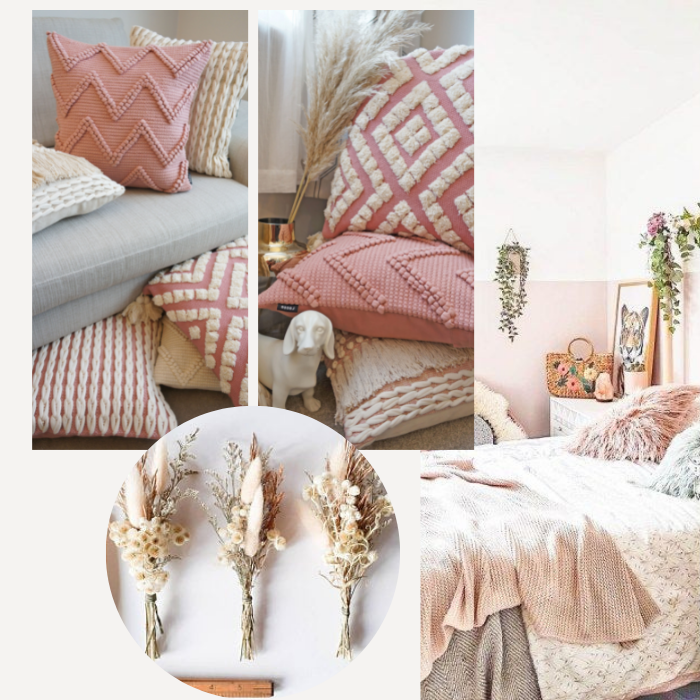 There's a bohemian style to suit all walks of people and with with no rules or borders to control your imagination. This individualistic depiction concept is all about what's personal to you and your personality. It gives you the freedom to get creative and break free from all those interior barriers. So lets celebrate boho living and lets see how you can incorporate some of our products into your home.
Minimalist Boho Wallpaper
So in keeping with this theme lets see how you can make small changes to your home to create a relaxed and chilled home. Let us start with boho wallpaper! So what is your favorite pattern? Or do you steer away from a decorative style? Again always remember to choose something you are in love with not because its the in fashion thing to get at that time. The moment you start following trends that everyone else is following is the moment it stops becoming boho. If you remember early on its about following your heart and what inspires you. Its about being unique and being true to yourself. We also stock Laura Ashley wallpaper that has a bohemian vibe to it.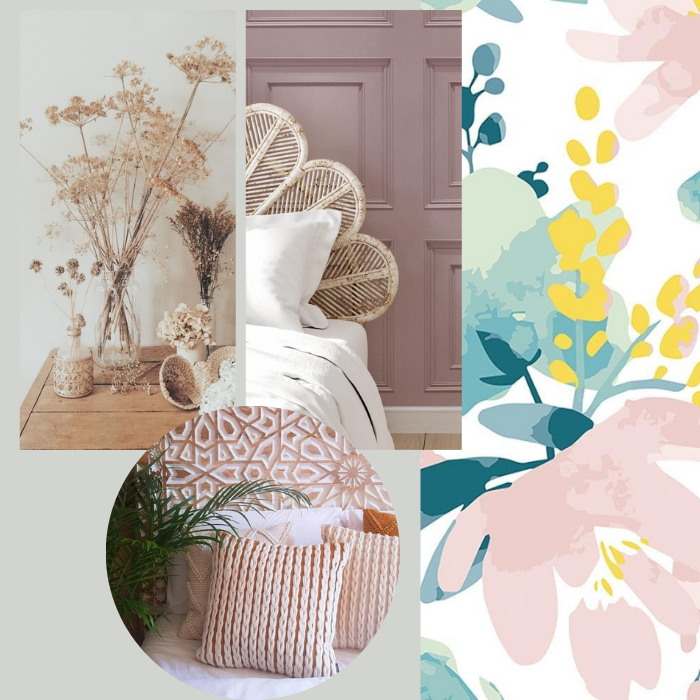 So what boho wallpapers do we supply? We have boho floral wallpaper which also has a shabby chic edge to them. They are the perfect boho bedroom wallpapers as they instantly make you feel relaxed which is what you need for any boudoir. Other boho style wallpaper are very arty like our Abstract Faces Wallpaper. And because this wallpaper comes in both soft palettes and natural hues it fits minimalist boho wallpaper.
Modern Boho Wallpaper
We stock some gorgeous boho themed wall murals that scream tranquility and relaxation. The three mural wallpapers that instantly spring to mind for this boho themed blog are Pastel Feathers Wallpaper Mural, Delicate Watercolour Flowers Wallpaper Mural. And Tropical Patterned Leaves Wallpaper Mural. These wall mural wallpapers evoke calmness because of the soothing soft patterns and hues.
Bohemian Cushions
Now we start to layer your room. Lets go with natural fabrics and soft complementing colours. Think thick cottons and natural textures when layering your boho interiors. Our Belize Scandi Boho Cushion comes in both a mustard and pink colour. With added tassles to the corners this doesn't look sleek or show home vibes. Rather it looks inviting and has a please use me effect rather don't touch me. There is nothing worse than going into someone's home and you sit upright because you do not want to crease the cushions. These boho style cushions look better the more you use them.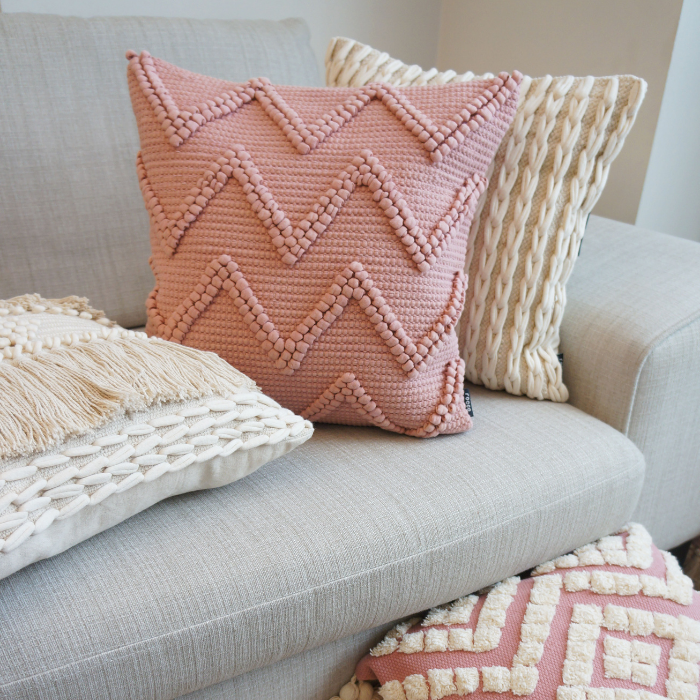 We also have a couple more macrame pillows. The Oslo Scandi Boho Cushion and the Ikos Scandi Boho Cushion also look like they will just blend into your room and add a sumptuous feel to your bohemian styled interiors.
Boho Home Decor
Use other furnishings to complete the look. I am seeing lots of rattan, bamboo furniture and baskets. Add these extra boho home decor items to add and create a spa like sanctuary.
Boho design doesn't have to be complicated, in fact I think the simpler the better! Don't try too hard or overthink it and your interior can take on a completely effortless boho look. Think neutral colours, natural wooden textures and minimal furniture, with an abstract twist. So start decorating today with our stunning boho wallpaper UK collections, and versatile bohemian cushions. And remember that because it has been in fashion for over 100yrs its not going to date or fade out of date. Boho interiors is here to stay.
Summary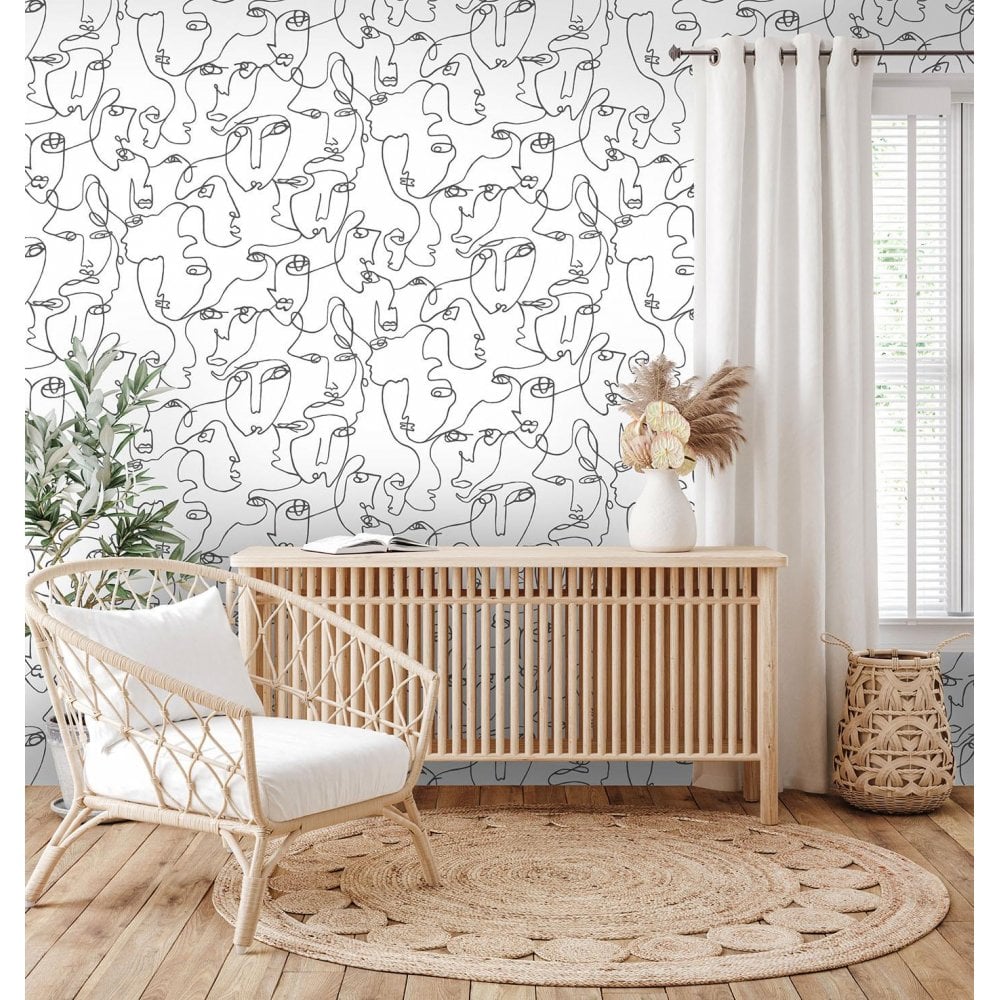 Author Rating
Brand Name
Product Name
Price
Product Availability