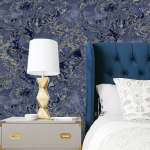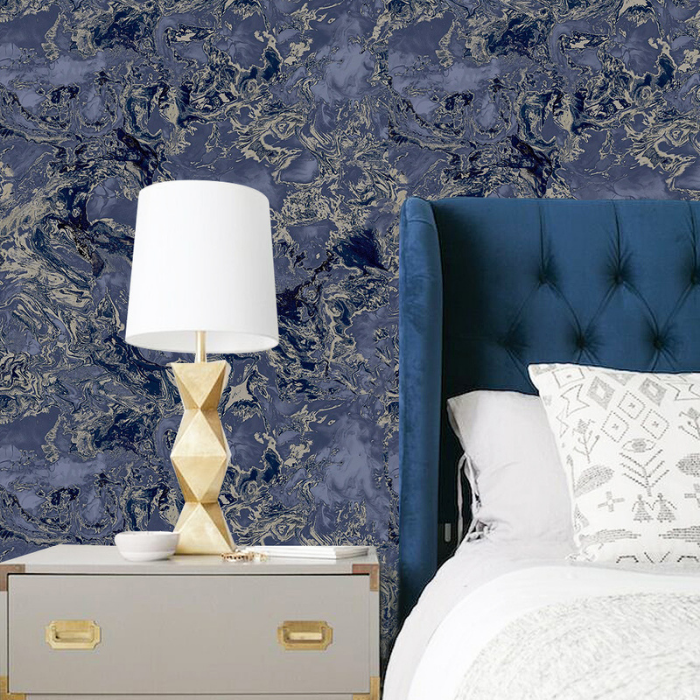 Blue Marble Wallpaper
/
January 25th, 2021
/
There are currently 0 comments
Our blue marble wallpaper is beyond a doubt our top seller. This stunning wallpaper design is the most sought after pattern. The navy liquid marble wallpaper with silver metallic highlights looks decadent and on trend. I have seen this blue marble bedroom wallpaper used as a feature wall behind some grandiose velvet headboard.
This blue and silver marble wallpaper is effective if you want to a modest styled wallpaper without too much pattern this ticks all those boxes. Some customers are scared to use pattern but still want a little pattern without it being too dominant. This just instantly adds glamour to a room. If used in a bedroom I personally would accessorise using velvet furnishings through out the Winter months to add layers and warmth to your bedroom, living room, or dining room.
We have some Malini cushions that would co ordinate perfectly. The Bijou Diamante Mirror velvet cushion comes in a beautiful blue or grey. And its just sparkles with the added diamantes. And lets not forget Malini Platinum Velvet Cushion in Silver.
Blue Marble Wallpaper – Liquid Marble Effect
The navy blue liquid marble wallpaper is the top seller but shortly behind this colourway is the grey, silver and rose gold marble wallpaper colours. These are just as pretty and defiantly a statement wallpaper. We had another delivery last week of another navy blue marble effect wallpaper from Muriva Elixir marble wallpaper collection. And its just gorgeous with shiny metallic silver highlights glimmer throughout.
If you want a more lighter shade this Elixir Marble Wallpaper Collection also comes in a light blue marble wallpaper colour. This blue and gold marble wallpaper is a shade lighter so if your room does not have too much light this next shade down may be more suitable. But we have a very light teal marble wallpaper which again is perfect for any dim lit room.
Onyx Marble Wallpaper
Introducing the Onyx Marble Wallpaper Collection which comes in two metallic shades of silver, or gold. It is on a stone effect background, which just looks like natural cut stone. I have seen this design go from strength and the full wall mural styles are all over the internet at exorbitant prices. So grab this wallpaper at a lower cost and it looks just as exclusive.
This marble wallpaper is one of our best-selling in the range. It has an elegant and classic style, whilst the gold or silver tones add a subtle sense of luxury. Use with, neutral co ordinating colours and simplistic furniture to create a stylish and relaxed living area that doesn't look like you tried too hard.
How To Style This On Trend Design
How relaxing is this 'ink in water' styled marble pattern? The most sublime blue tones are used to create an airy and light pattern. They are perfect for a home office, study or any creative space around your home. The colour blue also evokes instant feelings of calm and tranquility . You should always try to stay away from bright illuminous colours when it comes to rooms in which to relax in. Try and go for neutral hues as you may find yourself relaxed as soon as you walk into the room.
Are you looking for something dark and sophisticated? These captivating navy blue tones will inject your living room, dining room or bedroom with a sophisticated elegance. Use with materials such as velvet and golds/silvers/copper colours to add layers to your room. The trending gold stacked nest of tables always look sleek. And you only need to go on Instagram and look at our vast range of room ideas.
So show us a photo of marble blue wallpaper decorated rooms from your home because we love to see all our customers before and after photographs.
Summary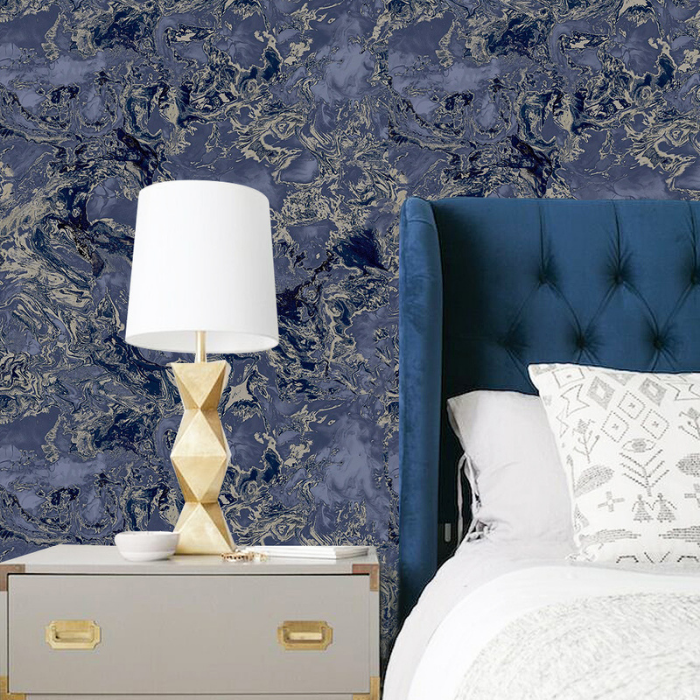 Author Rating
Brand Name
Product Name
Price
Product Availability